Pesto Pasta
by Editorial Staff
Pasta with pesto sauce is a classic Italian dish. The base of the pesto is basil, olive oil and hard cheese. We'll add garlic to the pesto. I suggest preparing this dish with spaghetti or fettuccine.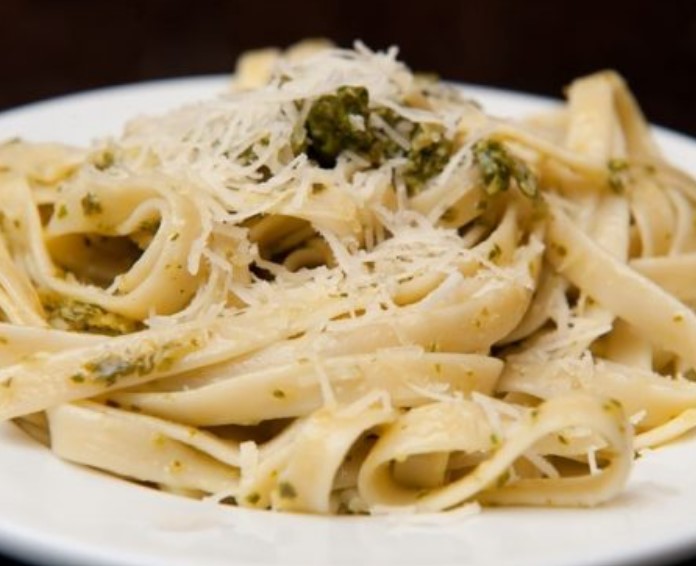 Cook: 30 mins
Servings: 4
Ingredients
Pasta (spaghetti or fettuccine) – 400 Grams
Basil (bunch) – 2 Pieces
Parsley – – To taste
Garlic – 4 Cloves
Hard cheese (Parmesan) – 80-100 grams
Olive oil – 2-3 tbsp
Butter – 3-4 Art. spoons
Dry white wine – 1 Glass
Salt – – To taste
Freshly ground black pepper – – To taste
Directions
Supply water for the paste. Peel and chop the garlic, dice the cheese.
Whisk the cheese and garlic in a blender.
Add basil and parsley to a blender and gently blend in a blender.
Add olive oil and scroll more. You should get a paste consistency.

In a separate bowl, grate the lemon zest, and squeeze the lemon juice into the same bowl.
Boil the pasta in salted water, which should have boiled by this time. Melt the butter in a skillet over medium heat, add lemon zest with lemon juice and wine. Simmer for a few minutes.
Drain the finished paste. Leave some of the water in which the pasta was cooked. Put the pasta in a skillet with lemon zest, add pesto, pour in some water, in which the pasta was cooked (if the mixture of pasta and pesto seems dry to you). Stir.
Season the dish with pepper and salt to taste. You can add red pepper flakes if desired. Serve with grated hard cheese (Parmesan).
Bon Appetit!
Also Like
Comments for "Pesto Pasta"