Puff Pastry Pizza Snack
by Editorial Staff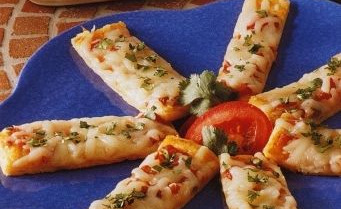 Crispy pizza on puff pastry with tomato vegetable salsa, basil, and capers. Pizza is served as an appetizer, cut into small rectangular pieces.
Ingredients
Puff pastry (defrosted) – 230 g
Dijon mustard – 2 tbsp
Mozzarella cheese – 120 g
Vegetable oil – for greasing the baking sheet
Fresh cilantro – for decoration
For salsa:
Cream tomatoes (diced) – 3 cups
Fresh basil (finely chopped) – 1/4 cup
Balsamic vinegar – 1 tbsp
Capers – 2 teaspoon
Salt – 1/4 teaspoon.
Directions
Turn on the oven to preheat to 180 degrees.
Prepare tomato vegetable salsa with basil and capers: cut the tomatoes into small cubes, finely chop the basil; combine all the salsa ingredients in a bowl, stir and set aside.
Roll out the puff pastry into a thin square about 3-5 mm thick. Cut into 4 equal rectangles. Place them on an oiled baking sheet.
Grease rectangles of dough with mustard and spread a thin layer of tomato vegetable salsa on top of them (use the remaining salsa as you wish).
Place the baking sheet in a preheated oven, bake the tomato pizza for about 10 minutes.
Remove the puff pastry pizza from the oven, sprinkle with cheese. Bake the cheese pizza for another 8-10 minutes.
Remove the finished puff pastry pizza from the oven, let it rest a little at room temperature, and then cut into strips and sprinkle with chopped cilantro.
Enjoy your meal!
Also Like
Comments for "Puff Pastry Pizza Snack"