Pumpkin Souffle
by Editorial Staff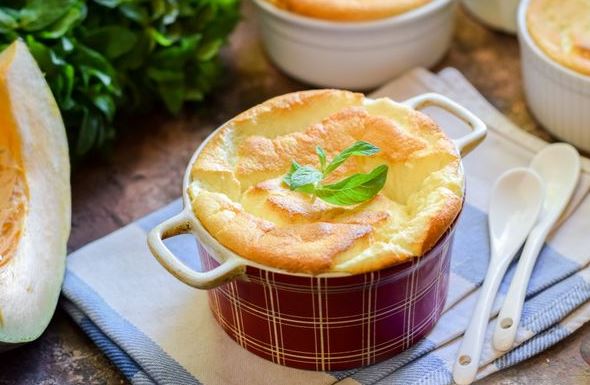 If you have any pumpkin in your fridge, be sure to make a pumpkin soufflé. To say that the soufflé is delicious is to say nothing! It is incredibly tender, appetizing, airy, melts in your mouth. Immediately after cooking, the soufflé is high and lush, and after cooling, it will surely settle. This does not affect the taste, the tenderness is fully preserved.
Cook: 40 minutes
Servings: 3
Ingredients
Pumpkin – 100 g (peeled)
Milk – 150 ml
Butter – 40 g + for lubricating molds
Flour – 40 g
Eggs – 3 pcs.
Sugar – 1 tbsp
Corn starch – 5 g
Salt – 1 pinch
Directions
Chop the peeled pumpkin at random.
Transfer the pumpkin to a saucepan, cover with hot water, cook for 15 minutes, until soft.
Transfer the soft pumpkin without liquid to a blender, chop to a puree consistency.
In the finished form, about 90 g of puree is obtained.
Turn on the oven to heat up to 180 degrees. Melt the butter in a saucepan.
Add flour to butter, mix well.
Pour milk into butter and flour.
Use a whisk to mix all the ingredients well. Heat the milk for literally 1.5 minutes, stirring constantly, so that all the lumps of flour disperse, and the mass becomes smooth and homogeneous.

Divide the eggs into yolks and whites. Add three yolks to the milk base. Place the egg whites in a separate bowl.
Add pumpkin puree to the saucepan.
Stir well with a whisk until smooth.
Beat the egg whites at low mixer speed for 1 minute. Add salt, sugar, and starch. Beat for another 1-1.5 minutes, until stable peaks.

Transfer the beaten egg whites to the milk base.
Stir the mixture from bottom to top with gentle movements. It turns out to be airy.
Grease oven molds with oil put the prepared dough there.
Cook pumpkin soufflé in the oven at 180 degrees for 20 minutes.
Enjoy your meal!
Also Like
Comments for "Pumpkin Souffle"