Souffle Cake with Peaches
by Editorial Staff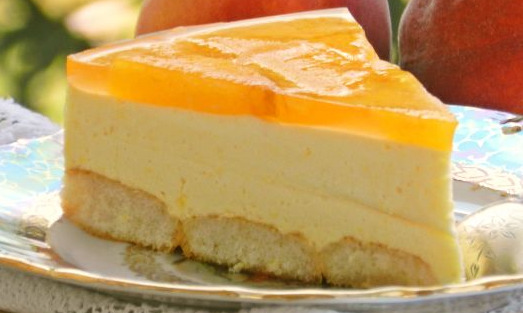 This delicious jelly cake made of ready-made biscuit cookies and cream with peaches will certainly please your loved ones and guests. The dessert is tender, like a soufflé, beautiful, and quite easy to prepare.
Cook: 5 hour
Servings: 10
Ingredients
Peaches – 4-5 pcs. (600 g)
Cream 33% – 500 ml
Sugar – 150 g
Powdered sugar – 3 tbsp
Cookies "Savoyardi" – 200 g
Instant gelatin – 1.5 tbsp
Orange jelly (dry) – 1 sachet (90 g)
How to make a dessert cake with peaches:
Directions
Leave one or two peaches to decorate the dessert. Wash three peaches and cut the skin on them.
In a saucepan, bring 500 ml of sugar and water to a boil. Dip prepared peaches into syrup and boil for 5-7 minutes, until soft.
Then remove the peaches from the syrup, put on a sieve, cool slightly. Peel the peaches off and remove the pits. Do not pour out the syrup.
Place the peach pulp in a blender and chop until smooth. You should make 300 ml of peach puree.
Pour gelatin with 100 ml of cold water, leave for 5 minutes. Then heat in a water bath until the gelatin is completely dissolved (do not boil).
Pour the diluted gelatin into the peach puree and mix thoroughly.
Beat the cream with powdered sugar until fluffy.
Without stopping whisking, pour the peach puree with gelatin into the cream. Whisk together.

You should get a thick, homogeneous, smooth mass.
Cover a detachable form with a diameter of 25 cm with parchment. Moisten the Savoyardi cookies in peach syrup and place them on the bottom of the dish.

Then put the creamy peach jelly in an even layer and put the cake without baking in the refrigerator for 2 hours. During this time, the creamy jelly will completely solidify, even faster.
Prepare orange jelly (according to package instructions). To do this, heat 300 ml of syrup to a boil, dilute the contents of the sachet in it, stir until completely dissolved and cool.
Peach peaches for decoration of peels and seeds. Cut into thin slices.
Remove the dessert from the refrigerator, put the peach slices in a circle.
Then gently pour the cooked jelly into the center of the cake with a tablespoon. A layer of jelly should cover the peach wedges.
Put the cake in the refrigerator again for 2-3 hours, until the jelly hardens.
When the jelly is completely frozen, the peach soufflé cake is ready. Peel the dessert gently and serve.
Enjoy your meal!
Also Like
Comments for "Souffle Cake with Peaches"