Curd Cake with Peaches
by Editorial Staff
The most delicate sponge cake with a layer of curd cream and juicy fragrant peaches is simply impossible to refuse. The recipe for making a cottage cheese cake with peaches is for all lovers of tasty things!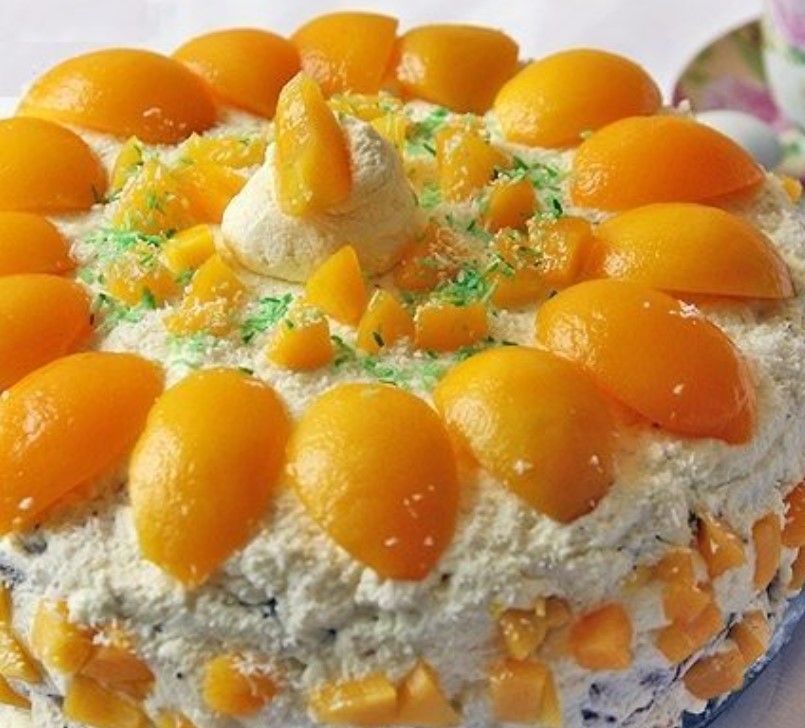 Cook: 4 hour
Servings: 8-12
Ingredients
Butter – 125 Grams
Sugar – 300 grams (125 g in the dough, the rest in cream)
Flour – 150 Grams
Eggs – 5 Pieces (2 per dough, 3 yolks per cream)
Baking Dough – 1 Teaspoon
Gelatin – 1 Art. the spoon
Curd – 400 Grams
Fat cream – 1 Glass
Vanillin – 1 Pinch
Lemon – 0.5 Pieces
Canned peaches – 500 Grams
Directions
Dissolve gelatin in water.
Put butter, 125 g sugar in a bowl, sift flour and baking powder, add eggs and knead the dough.
Put the dough in a mold and bake for 25 minutes in an oven preheated to 180C. Cool the finished biscuit and cut it lengthwise into 2 parts.

Separate the yolks of 3 eggs and beat them with sugar, vanilla and the juice of half a lemon.
Heat the gelatin slightly.
Add cottage cheese, cream and gelatin into the egg-sugar mixture, knead the cream.
Layer the cakes with curd cream and canned peach slices. Cover the top with cream, decorate with peaches and put in the refrigerator for several hours to harden.
Bon appetit!
Also Like
Comments for "Curd Cake with Peaches"