Pumpkin Sticks with Spices (in the Oven)
by Editorial Staff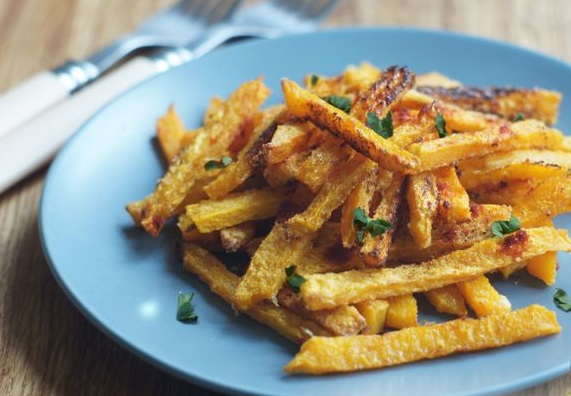 The pumpkin is cut into strips and baked in the oven with oil and spices. The dish is quite simple to prepare. It turns out an interesting side dish, snack, or appetizer with an appetizing appearance and unusual taste!
Ingredients
Pumpkin – 750 g
Corn starch – 2 teaspoon
Vegetable oil – 2 tbsp
Ground smoked paprika – 1 teaspoon
Dry granulated garlic – 1 teaspoon
Salt – 1 teaspoon
Ground black pepper – on the tip of a knife
Fresh parsley (optional) – to taste
Directions
Prepare the food you need using parchment paper.

Wash the pumpkin, peel it and cut the pumpkin into strips about 1 cm thick.
Pour the sliced ​​pumpkin in clean water for 20 minutes.
Turn on the oven, let it heat up to 190 degrees.
Drain the pumpkin in a colander, and after the water has drained, pat the straws dry with a paper or clean cloth towel.
Sprinkle the dried pumpkin strips with starch and stir.
Pour vegetable oil over the pumpkin and stir again so that all slices are covered with oil.
Line a baking sheet with parchment paper and place the pumpkin sticks in one layer on the baking sheet. Sprinkle the squash evenly with salt, paprika, and granulated garlic.
Place the baking sheet in the oven and bake the pumpkin with spices at 190 degrees for 20-30 minutes.

Remove the prepared pumpkin sticks from the baking sheet and serve, sprinkle with chopped parsley if desired.
Enjoy your meal!
Also Like
Comments for "Pumpkin Sticks with Spices (in the Oven)"