Real Donuts
by Editorial Staff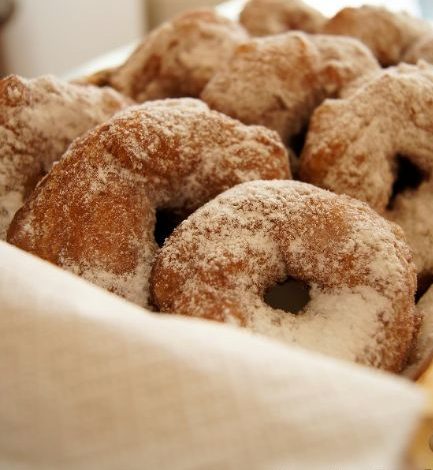 These are just awesome delicious donuts !!! You start to eat them and you can't stop, they are so tender and crispy !!
Ingredients
First-grade flour – 530 g
Dry yeast – 5-8 g
Salt – 5 g
Sugar – 60 g
Water – 310 g
Egg – 1 pc.
Butter – 30 g
Powdered sugar for sprinkling – 100 g
Vegetable oil – for frying and working
Directions
Dilute yeast, sugar, salt in warm (35-40 degrees) water. Melt the butter and cool. Pour oil into water, add flour, lightly beaten egg, knead light consistency dough (no dough). Grease a bowl with vegetable oil, transfer the dough, tighten with plastic wrap. Let it ferment for 4 hours. During this time, knead 2-3 times.
Grease the work surface and hands with oil, knead the dough one last time, divide into balls the size of a walnut, put on the table, cover with foil and let rise for 30 minutes.
Pour oil into a saucepan (cast iron or stainless steel). Heat over high heat then reduces by a third. Grease your hands with oil again. We take one piece of dough, make a hole in the middle with our fingers, and throw it into boiling oil. Do not put a lot of donuts in the butter at the same time so that the temperature does not drop. Fry donuts on both sides until golden brown.
Put the finished donuts on a napkin so that the excess oil is absorbed. Sprinkle with powdered sugar. And we eat)))
Also Like
Comments for "Real Donuts"