Rice with Cod
by Editorial Staff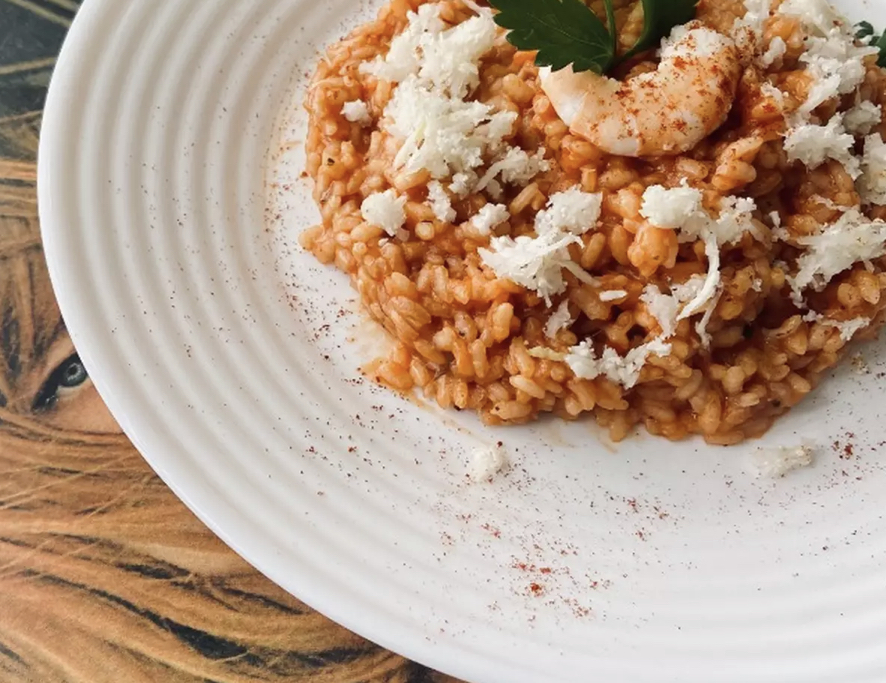 The Torres Brothers' Spanish Chef recipe. Tip: Rice should be cooked with fish/shrimp broth.
The secret of taste is the addition of paprika during the preparation process, and the "zest" of cauliflower gives an original taste to this dish.
Ingredients
150 g cod
2 cups round rice
200 g tomatoes preserved in their juice
30-50 g cauliflower
1 pc onion (medium head)
2 cloves of garlic
50 g butter
2 tablespoon olive oil
1 tablespoon dried paprika
A pinch of lime/lemon zest
Salt to taste
Pepper to taste
Pair of pieces of shrimp serving
Parsley for serving
Directions
Pre-boil the cod until tender, in a saucepan of 1-1.5 liters of water. We do not drain the broth, it is useful for cooking rice. When ready, chop the cod with a knife and leave it aside.
Melt the butter in a deep frying pan or a saucepan, depending on where you prefer to cook the dish.
Add finely chopped onions. Fry over low heat until golden brown.
Add dried paprika, black pepper, salt to taste to the onion fry.
Pour a can of tomatoes preserved in their juice into the resulting mixture.
We simmer everything together over low heat.
Then gradually we begin to add rice. Mix everything thoroughly.
Slowly pour in the cold broth. Portions, for 20 minutes, stirring the rice constantly.
Add the chopped cod to the rice, stirring the dish over low heat.
Check the rice for readiness to taste. 5 minutes before the rice is fully cooked, add the grated garlic, pre-mixed with olive oil.
Remove rice from heat.
For the final gesture, finely grate cauliflower and lime/lemon zest and mix.
When serving the rice on a plate, sprinkle the dish on top with the resulting lime and cauliflower zest, add a couple of cooked shrimp (you can avoid using shrimp if not available), and garnish with parsley.
Enjoy your meal!
Also Like
Comments for "Rice with Cod"