Rice with Vegetables, in a Frying Pan
by Editorial Staff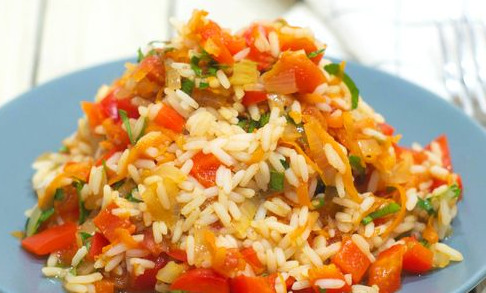 Separately boiled rice is mixed with vegetables fried in a pan and warmed up for a couple of minutes. Herbs, garlic, coriander, and soy sauce give the dish a wonderful taste and aroma. A great stand-alone dish or side dish.
Servings: 3
Ingredients
Long grain rice – 70 g
Tomatoes – 160 g
Bulgarian pepper (red) – 1 pc.
Bulb onions – 1 pc. (80 g)
Carrots – 60 g
Garlic – 1 clove
Vegetable oil – 2 tbsp
Salt – 1 teaspoon
Ground black pepper – on the tip of a knife
Ground coriander – 0.25 teaspoon
Soy sauce – 2 tbsp
Fresh parsley – 10 g
Water – 1 liter (for boiling rice)
Directions
Peel the onion and cut it into small cubes. Peel and grate the carrots.
Cut the pepper into two halves lengthwise, remove the inner part with the seeds. Make a cruciform cut in the tomatoes. Pour boiling water over the tomatoes for 30-45 seconds and then discard in a colander. Pour the tomatoes over with ice water, peel them off. Cut the pepper and peeled tomato pulp into small pieces.
Heat vegetable oil in a frying pan, add chopped onions and carrots. Stir, fry over medium heat for 1-2 minutes, then add 2 tablespoon. tablespoons of water and simmer over low heat for 5-7 minutes.
Add chopped tomatoes and peppers to the skillet.
Rinse the parsley, shake. Separate the leaves from the stems and chop finely. Peel and chop the garlic. Add the parsley and garlic to the skillet.
Add 0.5 teaspoons of salt, black pepper, coriander, add soy sauce, and stir.
Rinse the rice, pour 1 liter of hot water in a saucepan or saucepan, add 0.5 teaspoons of salt and bring to a boil. Cook the rice for about 15-17 minutes. The rice should be soft, but not soft.
Throw the rice onto a strainer and, after all the liquid has drained, transfer the rice to the pan with the vegetables.
Stir all ingredients. Heat rice with vegetables over low heat for 2-3 minutes so that the rice absorbs all the flavors of vegetables.
Enjoy your meal!
Also Like
Comments for "Rice with Vegetables, in a Frying Pan"