Spaghetti Meat Sauce
by Editorial Staff
What can complement properly cooked pasta? Delicious sauce, of course. A flavorful and hearty spaghetti meat sauce can be a great idea.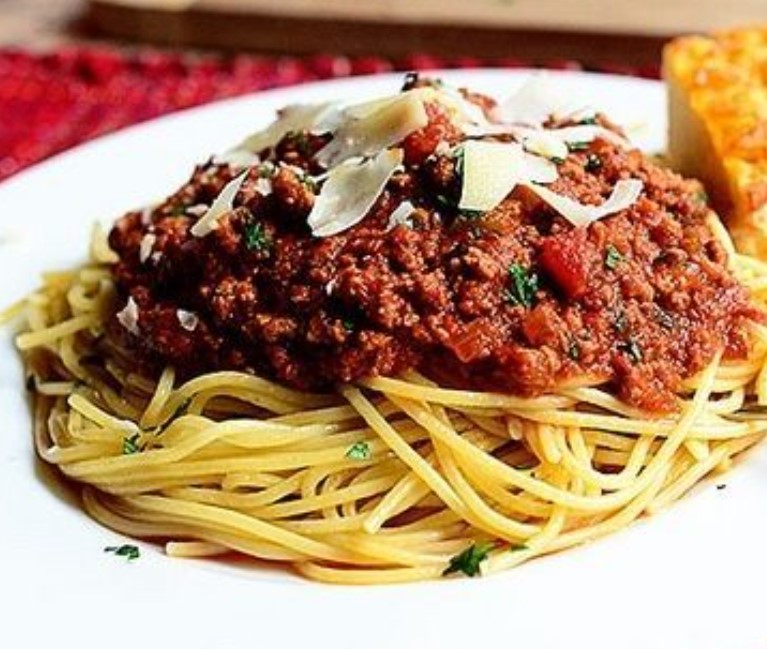 Cook: 1 hour
Servings: 6-8
Ingredients
Meat – 350 Grams
Onion – 1-2 Pieces
Sweet pepper – 1 Piece
Garlic – 2-3 Cloves
Vegetable oil – 1-2 tbsp
White wine – 50 Milliliters
Tomato paste – 1 tablespoon the spoon
Tomato sauce – 2-3 Tbsp. spoons (or fresh tomatoes)
Salt – 1 Pinch
Sugar – 1 Pinch
Oregano – 1 Pinch
Pepper – 1 Pinch
Bay leaf – 2-3 pieces
Cheese – 100-150 Grams
Fresh herbs – 10 Grams
Directions
The recipe for meat spaghetti sauce is quite simple. First you need to wash, dry and mince the meat. Pour some vegetable oil into the pan and send the minced meat there. Fry it a little.

Meanwhile, peel and dice the onion.
Wash bell peppers and remove seeds and tail. Cut into small cubes.
Peel and chop the garlic (you can squeeze it through a press).
Transfer the fried minced meat to a plate and add some more oil to the pan. Send onions and peppers there and fry.
When the vegetables are tender, add the garlic to the pan.
Then pour in the wine and stew the vegetables a little.
Add tomato paste and tomato sauce to the pan (you can replace with fresh tomatoes, after peeling them off).
Season the sauce with salt and pepper to taste. Add your favorite spices and dried herbs, a pinch of sugar.
Put back the fried minced meat.
Grate the cheese on a fine grater and add to the sauce. Add bay leaves and simmer under a closed lid.

Wash, dry and chop fresh herbs.
Add herbs to sauce, stir well and can be removed from heat.
Meat sauce for spaghetti at home is ready. When serving, you can additionally sprinkle with grated cheese and herbs.
Bon appetit!
Also Like
Comments for "Spaghetti Meat Sauce"