Spicy Beef Stew
by Editorial Staff
I like to cook something spicy, for example, beef stew – it is a pleasure to cook, but eating is even better. The meat turns out to be tender, aromatic and juicy, I highly recommend it to everyone!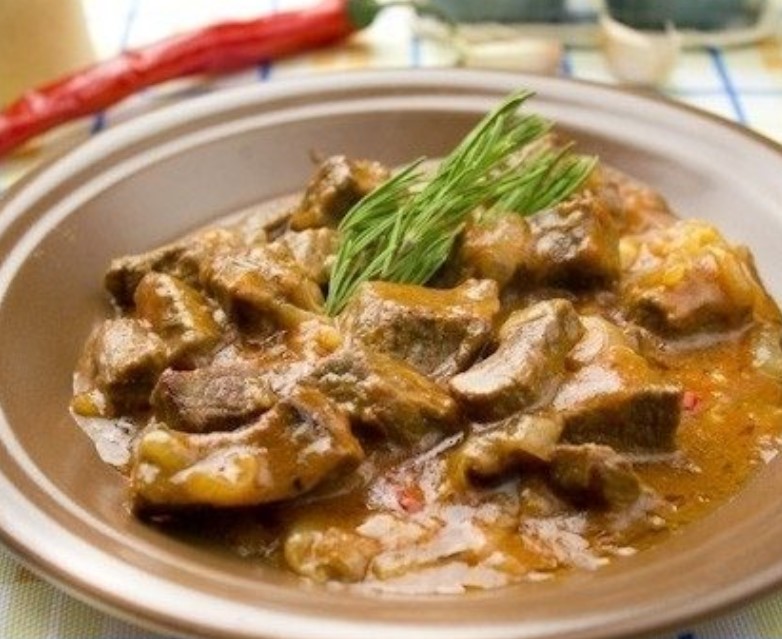 Cook: 2 hour
Servings: 8
Ingredients
Onions – 2 Pieces
Wheat flour – 1
Tomato juice – 500 Milliliters
Beef – 500 Grams
Sunflower oil – 3 Art. spoons
Fresh chili pepper – 1 Piece
Salt – 1 Teaspoon
Garlic – 2 Cloves
Directions
For the stew, take: beef, onions, garlic, chili peppers, tomato juice (fresh tomatoes or tomato paste) and feel free to start cooking. We take the meat and cut it into pieces.

Cut the onion into half rings, and cut the pepper and garlic into rings.
Add a couple of tablespoons of oil to a preheated skillet and fry the meat for 10 minutes.
In a heavy-bottomed saucepan, sauté the onions, garlic and chili in a little oil. After 3 minutes, add a tablespoon of flour, stir and fry for another 1 minute. Stir the flour so that there are no lumps left.
Now pour tomato juice into a saucepan, close it with a lid and simmer over low heat for 20 minutes. If you chose tomato paste instead of tomato juice, pour a little water into the saucepan to prevent the vegetables from getting dry.
When the vegetables are stewed, put the meat in a baking dish and fill it with our sauce.
Cover the form with foil and send to bake for 90 minutes in an oven preheated to 180 degrees.
Serve the beef stew hot with the beef table.
Bon Appetit!
Also Like
Comments for "Spicy Beef Stew"