Sponge Cake with Sour Cream
by Editorial Staff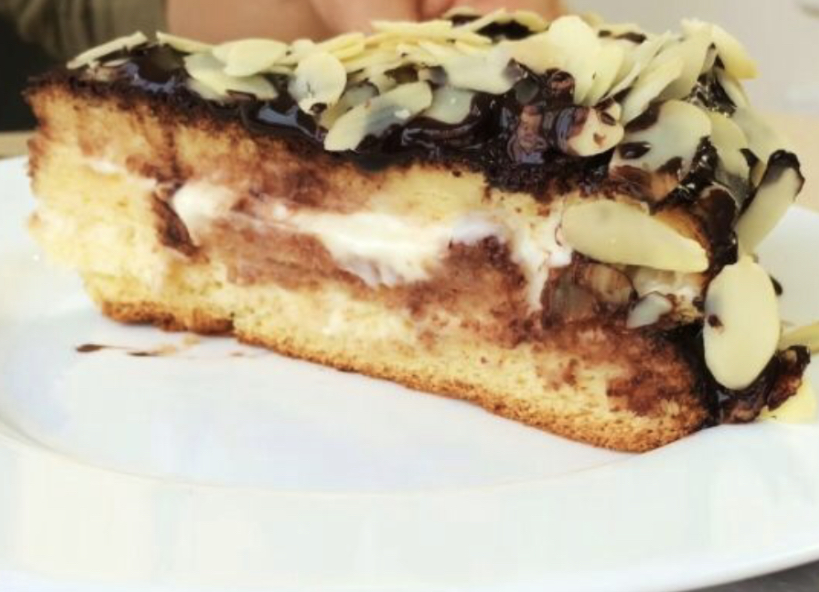 By the arrival of guests, using a minimum amount of ingredients, you can prepare an incredibly delicious sponge cake with sour cream and chocolate icing.
Ingredients
For the biscuit:
Eggs – 10 pcs.
Sugar – 10 tbsp
Flour – 10 tbsp
Salt – 1 pinch
For the cream:
Sour cream (20%) – 300 g
Powdered sugar – 4 tbsp
For glaze:
Cocoa – 100 g
Sugar – 2-3 tbsp (to taste)
Milk – 200 g
Butter – 2 teaspoon
For decoration (optional):
Directions
We take eggs at room temperature. Separate the whites from the yolks.
Beat the whites with a pinch of salt into a strong foam. Beat the yolks separately (they should increase in volume).
Add 5 tablespoon to whites and yolks. tablespoons of sugar (if desired, you can add vanilla). Beat for another 2-3 minutes.
Combine yolks with several tablespoons of proteins.

Gently stir in the proteins with a silicone or wooden spatula from top to bottom (in one direction).
We introduce sifted flour.
We mix with the remaining proteins.
Cover the baking dish (diameter – 24 cm) with parchment. We spread the dough into a mold and level.
We send the biscuit dough into an oven preheated to 180 degrees for 40 minutes.
We make sour cream: mix sour cream with powdered sugar and send the cream to the refrigerator.
Let's start making chocolate glaze. Mix cocoa with sugar.
Gradually pour in the milk in small portions and stir. (We pour in the next portion of milk only when the previous milk has already been absorbed and the cocoa has begun to clump.)
We put on medium heat and, stirring constantly, cook for 3 minutes. (The chocolate mixture must not boil!)
Turn off the heat and add the butter. Stir until the oil dissolves. The chocolate icing is ready.
We check the readiness of the biscuit with a wooden stick – it must be dry.

Remove the slightly cooled biscuit from the mold. We leave for 15-20 minutes.
Cut the biscuit into 3 cakes (the middle part should be much thinner than the rest).
Lubricate the still warm biscuit cake with sour cream, wait 10 minutes and pour another 2 tablespoon onto the cake. tablespoons of cream. Thus, we collect the entire biscuit cake with sour cream.
Grease the cake with chocolate icing on top.
Decorate a sponge cake with nuts, coconut, or fruit.

If you leave the sponge cake with sour cream for at least 1 hour, then the average cake will absorb the cream so much that it will taste like a soufflé.
Enjoy your meal!
Also Like
Comments for "Sponge Cake with Sour Cream"