Cake on Sour Cream
by Editorial Staff
Soon the great holiday of Light Easter, for which it is customary to bake cakes. Today I want to offer you a simple, but very tasty and tender cake with a delicious aroma.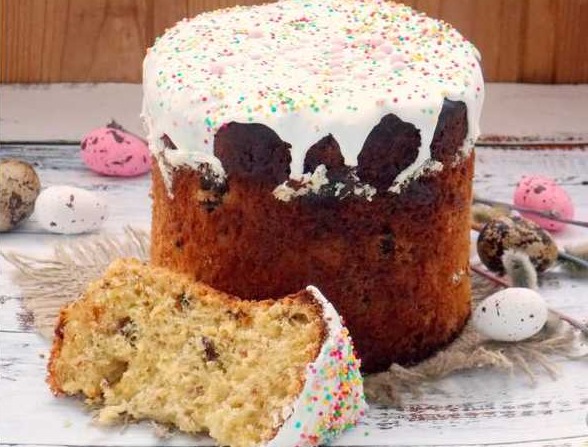 Servings: 8
Cook: 6 hours 15 minutes
Ingredients
For the dough:
Wheat flour – 400 g + for sprinkling the mold
Sour cream with a fat content of 25% – 220 g
Milk – 100 ml
Butter – 50 g
Egg – 1 pc.
Yolks – 2 pcs.
Fresh yeast – 30 g
Sugar – 120 g
Vanilla sugar – 8 g
Baking powder – 1 teaspoon
Salt – 1 teaspoon
Raisins – 100 g
Almonds – 100 g
Ground cinnamon – 1/2 teaspoon
Ground nutmeg – 1/2 teaspoon
Ground cardamom – 1/4 teaspoon
Ground cloves – 1/4 teaspoon
Saffron – 1 pinch
Grated lemon zest – 1 teaspoon
Vegetable oil – for lubricating the mold
For glaze:
Egg whites – 2 pcs.
Powdered sugar – 100 g
For decoration:
Confectionery sprinkles – 10 g
Directions
Fry the almonds in a dry skillet.
Remove the oil from the refrigerator beforehand; it should be at room temperature.
Heat the milk a little, add yeast and sugar (1 tablespoon). Stir until smooth.
Leave the brew for 10 minutes. During this time, the yeast should start working. The mass will begin to foam, forming a fluffy cap.
To the sifted flour, add the zest, salt, baking powder, remaining sugar, vanilla sugar, cinnamon, nutmeg, cardamom, cloves, saffron and stir.

Grind the almonds into coarse crumbs in any way convenient for you. Add chopped almonds to flour mass, stir.
Add dough, egg, yolks and sour cream to the flour mass.
Stir and knead into a soft, sticky dough for 10 minutes.
Add butter and knead the dough again.
Cover the bowl with plastic wrap and store in a warm place for 3 hours.
The dough should double in size.
Pour the raisins with hot water for 5 minutes. Drain the water and dry the raisins.
Pound the dough and add the raisins. Stir until the raisins are evenly distributed.
Take forms for cakes (I have paper ones), grease them with vegetable oil and sprinkle with flour.
Divide the dough into molds, filling about 2/3 full.

Cover with plastic wrap and place in a warm place to proof for 30 minutes.
Turn on the oven and preheat it to 180 degrees.
Bake the cakes in a hot oven at 180 degrees for 45 minutes until tender. Take out and cool.
Prepare all the required icing ingredients.
Whisk the whites until stiff peaks. Add the icing sugar and stir until smooth.
Apply the icing to the Easter cakes.
Decorate the top of the cakes as you like. I decorated with pastry sprinkles.

The cake is ready on sour cream.
You can serve it right away, but it is better to let the cake brew for several hours.
Bon Appetit!
Also Like
Comments for "Cake on Sour Cream"