Sponge Cake Roll with Curd-Sour Cream and Halva
by Editorial Staff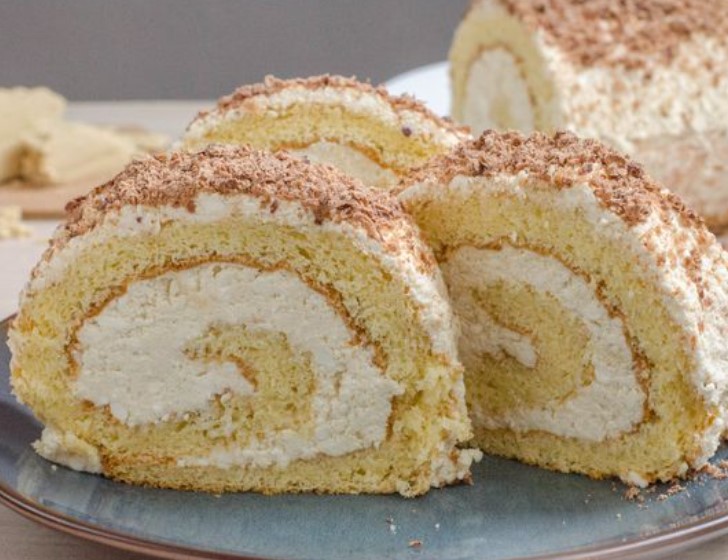 A roll with curd-sour cream and halva will delight you with an incredibly delicate taste. The biscuit cake turns out to be soft and airy, and the cream is rich, unusual and very tasty. Try to cook, and you will repeat this recipe more than once!
Servings: 5
Ingredients
For the test:
Eggs – 5 pcs.
Flour – 110 g
Sugar – 100 g
Vegetable oil – 20 ml
Vanillin – 1 pinch
Baking dough – 1 teaspoon
Salt – ¼ teaspoon
For the cream:
Cottage cheese 9% fat – 500 g
Sesame halva – 150 g
Sour cream 15% fat – 70 g
Powdered sugar – 20 g
For decoration (optional):
Directions
We prepare the necessary products. The eggs should be cold by the time they are cooked. You will also need parchment paper during cooking

We divide the eggs into whites and yolks. We send the squirrels to a large bowl.
Add salt to the egg whites.
Beat the egg whites with salt for 5 minutes.
Add sugar and beat for another 2 minutes.
Pour vegetable oil into the yolks and mix with a whisk.
Gradually, continuing to beat, add the yolks to the protein mass. We turn on the oven to heat up to 180 degrees.
Add baking powder and vanillin to the flour. We mix.
Sift the flour with baking powder and vanilla into a bowl to the egg-butter mass in parts.
Stir in flour with movements from bottom to top.
Cover the baking sheet (the size of my baking sheet is 36×42 cm) with parchment paper.
We spread the dough, evenly distributing it over the baking sheet. We send to the oven for 15 minutes at a temperature of 180 degrees.
At this time, we will prepare the cream. To do this, rub the cottage cheese through a sieve.
Add sour cream and powdered sugar to the curd. We mix.
Grind halva with your hands or rub it on a fine grater.
We combine curd mass with halva. We mix.
We spread the finished cake directly on a towel with parchment paper.
In a hot state, helping ourselves with a towel, roll the cake into a roll.
We wrap the resulting roll with a towel and let it cool completely.
We unfold the towel and remove the parchment paper from the cake.
Spread the resulting cream evenly on the cake. We leave a little cream for decoration.
We roll the cake with cream into a roll.

Lubricate the roll with the remaining cream. We leave in a cold place for 2-5 hours.
Decorate the roll if desired. I decorated with grated chocolate.
A roll with curd-sour cream and halva is ready. We cut the roll into pieces and enjoy its pleasant rich taste.
Enjoy your tea!
Also Like
Comments for "Sponge Cake Roll with Curd-Sour Cream and Halva"