Sponge Roll with Strawberries and Curd Cream
by Editorial Staff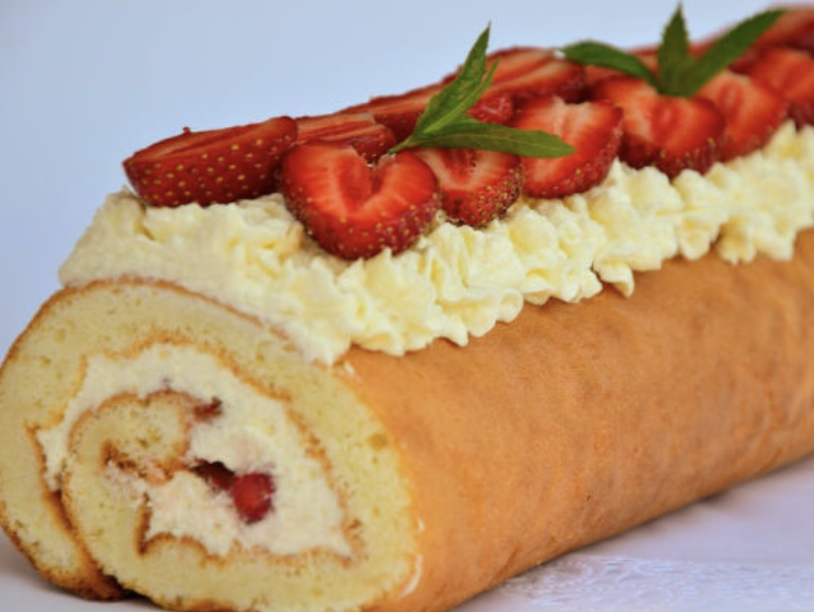 Delicate and delicious biscuit roll with fresh strawberries. The dessert recipe is quite simple both in preparation and in a set of products. This is a great option for those who love biscuit baked goods combined with fresh strawberries and a light curd-butter cream.
Ingredients
For a biscuit:
Yolks – 6 pcs.
Proteins – 6 pcs.
Sugar – 120 g
Vanilla sugar – 10 g
Flour – 150 g
Corn starch – 25 g
Baking dough – 1 teaspoon.
Milk – 75 ml
Vegetable oil – 50 ml
Salt – a pinch
For the cream:
Cottage cheese – 250-300 g
Butter – 100 g
Condensed milk – 150 ml
For impregnation (optional):
Water – 50 ml
Sugar – 50 g
Vanilla essence (or rum, or cognac)
For filling:
Fresh strawberries – 250-300 g
Directions
Prepare products for the biscuit roll.
Prepare biscuit dough. Combine egg yolks, sugar, vanilla sugar, milk, and vegetable oil and mix well with a whisk.
Sift flour, starch, baking powder for dough through a sieve.
Add dry ingredients to the yolk mass and beat a little with a mixer until a homogeneous dough is obtained.
Beat whites separately with a pinch of salt until soft and firm protein peaks.
In several steps, combine the whipped whites with the yolk mass and mix gently with a spatula to maintain the airiness of the biscuit.
Line a 40×35 cm baking sheet with baking paper, grease with vegetable oil. Spread the biscuits evenly over the baking sheet.
Bake in an oven preheated to 180 ° C for 10-12 minutes.

When the biscuit becomes slightly golden, check the readiness of the cake with a match – it must be dry.
Remove the finished cake from the oven, transfer it to a clean sheet of parchment paper, and remove the paper on which it was baked from the biscuit.
Quickly roll the warm cake into a roll and let it cool.
Prepare the cream. Beat soft butter until white for about 4-5 minutes. Without stopping whipping, pour in condensed milk in a thin stream.
Rub the cottage cheese through a sieve or mince it.
Add the grated cottage cheese and stir until smooth. If desired, set aside some of the creams to decorate the biscuit roll.
Carefully unfold the cooled biscuit cake.
Spread the curd cream evenly over it, leaving about 1-1.5 cm around the edges without cream.
Select beautiful whole, undamaged strawberries, wash and dry. Cut the strawberries into halves.
Place the berries on top of the curd cream.

Gently roll into a roll and refrigerate for 2-3 hours.
Before serving, cut off the uneven edges of the roll, garnish with the set aside curd-butter cream.
Then garnish with fresh strawberry slices on top.
Sponge roll with strawberries and curd cream is ready.
Enjoy your meal!
Also Like
Comments for "Sponge Roll with Strawberries and Curd Cream"