"Stars" from Sausages and Mashed Potatoes
by Editorial Staff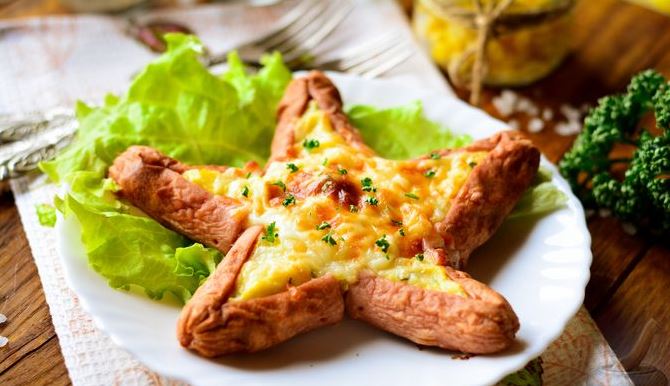 Our recipe for today is for those looking for sausage dishes. "Stars" made from sausages and mashed potatoes are a great snack for the whole family, especially kids will appreciate it. On a free day off, prepare hot sausage "stars" that are easy to bake in the oven.
Ingredients
Milk sausages – 350 g
Potatoes – 350 g
Egg – 1 pc.
Mozzarella cheese – 70 g
Greens (dill, parsley) – 0.5 bunch
Salt to taste
Ground black pepper – to taste
Directions
Boil peeled potatoes until soft for 20-25 minutes. Drain the water.
Mash potatoes in mashed potatoes and cool slightly. Drive in a chicken egg. Add salt and pepper to taste and stir. Chop greens (dill and parsley) and add to the filling. Mix the filling and it is ready. Preheat the oven to 180 °.
Cut the sausages into equal halves. Turn on the oven 180 degrees. Make an incision, but not completely. Fasten with a toothpick and open the sausage slightly. Combine the sausages in a star shape and place them on a baking sheet. Put the potato filling in the middle.

Smooth out the filling in the sausages. It will take about 1.5-2 tbsp for each "star". Sprinkle the mashed potatoes with sausages with grated mozzarella and bake in the oven.

After 10-15 minutes, the "stars" are ready and brown. Serve mashed potatoes with sausages.
Enjoy your meal!
Also Like
Comments for ""Stars" from Sausages and Mashed Potatoes"