Lazy Brizoli with Mashed Potatoes and Sausages
by Editorial Staff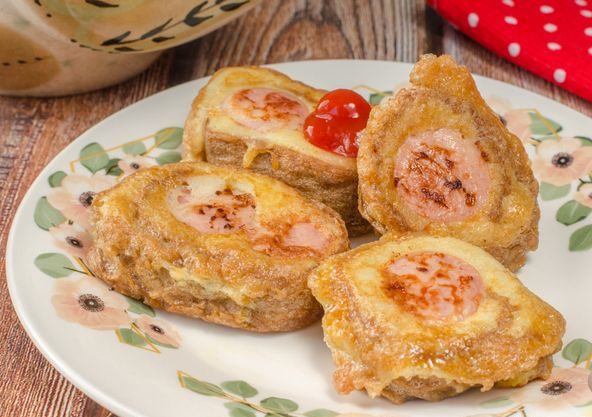 The recipe for lazy brizoles with mashed potatoes and sausages will help you out when you need to feed your family quickly, satisfyingly, and on a budget. From the simplest but favorite ingredients, you will get a very interesting and mouth-watering dish.
Servings: 5
Cook: 45 mins
Ingredients
Wafer cakes – 3 pcs.
Eggs – 3 pcs.
Potatoes – 4-5 pcs. (600 g)
Sausages – 6 pcs. (350 g)
Butter – 30 g
Vegetable oil – 3-4 tbsp
Salt to taste
Directions
We prepare products.

Peel and dice the potatoes.
Fill the potatoes with water and boil until tender (20 minutes after boiling). Salt the water during cooking.
Combine potatoes with butter and knead in mashed potatoes. Let the mashed potatoes cool slightly.
We clean the sausages from the shell.
Grease the waffle cakes with mashed potatoes and leave for 5-7 minutes. The cakes should be slightly soaked and elastic.
Place two sausages on wafer cakes with mashed potatoes.
Roll the cakes with the filling into a tight roll and cut the resulting rolls into 2 cm thick pieces and dip each piece of the roll into an egg.
Heat 2 tablespoon in a frying pan. tablespoons of vegetable oil. Fry lazy brizols for 2-3 minutes on each side, until golden brown.

Lazy brisols with potatoes and sausages are ready.
Enjoy your meal!
Also Like
Comments for "Lazy Brizoli with Mashed Potatoes and Sausages"