Tartlets with Berries and White Chocolate Mint Mousse
by Editorial Staff
Tartlets with berries – a dessert with a taste of summer. 🙂 I liked that sugar is not used in the recipe for the dough for tartlets … The slightly salty crumbly dough only emphasizes the taste of the filling – the creaminess and sweetness of the cream, the freshness of mint and the juiciness of berries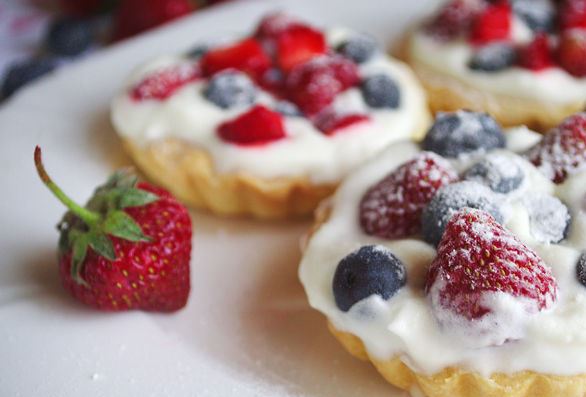 Cook: 120 mins
Servings:12
Ingredients
Dough:
Flour – 340 g
Salt – 1/2 teaspoon
Butter – 85 g
Water (ice) – 4-5 tbsp
*
Mousse:
Milk – 90 ml
Sugar – 1/4 cup
White chocolate (slab, porous – it doesn't matter) – 100 g
Cream – 200 ml (fatty, for whipping)
Mint – 2-3 sprigs
*
Fresh berries (strawberries, blueberries, raspberries, etc.) – 200-300 g
Tartlets, they are also baskets, have been banned from me for a long time. It seemed to me that it was something terribly complicated and confusing. But it turned out that tartlets are prepared in half an hour, but the pleasure is the sea, they are so cute, you constantly want to touch and feel them.)
The filling is variable again, even though sweet, even salty. I decided not to look for easy ways and used the mousse from the Gastronome's book ("About eggs and milk"), which I have long wanted to try.
The recipe for shortcrust pastry for tarts and tartlets is from Le Cordon Bleu's "Complete Step-by-step Cookery Book". I liked that it does not use sugar (yes, yes, in general), because I don't like it when dessert is sugar and sugar. Slightly salty crumbly dough only emphasizes the taste of the filling, which turned out with the real smell of summer: creaminess and sweetness of cream, freshness of mint and juiciness of berries.
Directions
Pour some cold water into a cup, send it to the freezer. Sift flour, add salt, mix. Add coarsely chopped butter to flour and salt (chilled, it is even better to put it in the freezer for 10 minutes before cooking) and chop everything together until coarse crumbs form (I use a knife first, and then a fork). Important: you need to work quickly so that the oil remains hard and cold.
We take out the water from the freezer and start pouring in one tablespoon at a time, stirring the dough with a fork after each time. The dough should get damp. Then we collect the dough in a lump with our hands (it will still be a large crumb, but it will gather in one without any problems), wrap it in film and send the dough for tartlets to the refrigerator for half an hour.
Sprinkle flour on the table and rolling pin and roll out the dough into a layer about 2-3 mm thick. Cut out the circles for the molds. If you have something of a suitable dia (i.e. slightly larger than the dia of the tartlet molds), such as a cup, you can cut out circles with it. If not, before rolling out the dough for tartlets, divide it into 12 equal parts, and roll them out already. We spread the dough into molds, pressing down the edges well so that there are no air pockets left anywhere. Do not forget to prick the dough with a fork. And we bake the tartlets in the oven at 200 degrees for 15 minutes. We set aside to cool.

Knead the mint in your hands and put it in the milk. Bring milk to a boil, remove from heat, cover and leave for 20-30 minutes. Remove the mint (discard), add sugar and bring to a boil again. Boil, stirring occasionally, for a couple of minutes over low heat. We remove from the fire. Immediately add the chocolate broken by pieces and stir until it is completely dissolved. Cool completely (after some cooling – you can in the refrigerator).
Beat the cream until stiff peaks. Pour the milk-chocolate syrup into a wide bowl and add whipped cream in several steps. Mix very carefully with a silicone or wooden spatula from bottom to top until smooth.

We fill the baskets with mousse and berries. Sprinkle lightly with icing sugar on top of the berry tartlets.
Enjoy with coffee and welcome summer
Also Like
Comments for "Tartlets with Berries and White Chocolate Mint Mousse"