Black and White Chocolate Mousse
by Editorial Staff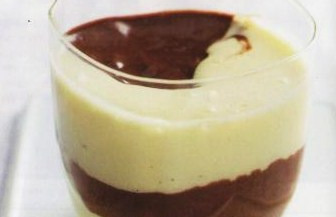 Chocolate mousse is a great dessert recipe for chocolate lovers – simple, but extremely tender and delicious!
Servings: 4
Ingredients
Dark chocolate – 125 g
White chocolate – 125 g
Large eggs – 4 pcs.
Directions
Break the black and white chocolate into pieces and place in separate bowls. Melt the chocolate in the microwave (one at a time) for 1 to 2 minutes at medium power. Chocolate (especially white chocolate) is very sensitive to heat (it can burn or turn into a lumpy mass). Be careful, check every 30 seconds, keep the process under constant control. Stir the melted chocolate gently until smooth. Cool slightly.
Separate the whites from the yolks. Add the yolks to the bowl with white and dark chocolate (2 pcs.). Stir until smooth. Beat the whites well with a mixer. Add half each whipped egg whites to the dark and white chocolate. Stir each part for a couple of minutes.
Pour the dark and white mixture, alternately, in layers, in a portioned glass dish (finish with a dark layer). Cover and refrigerate for a few hours (ideally until the next day).
Bon Appetit!
Also Like
Comments for "Black and White Chocolate Mousse"