Tomato Salsa
by Editorial Staff
This tomato salsa is made with baked tomatoes and chili peppers. You can serve this salsa with an omelet, toast, pizza and other appetizers and main courses.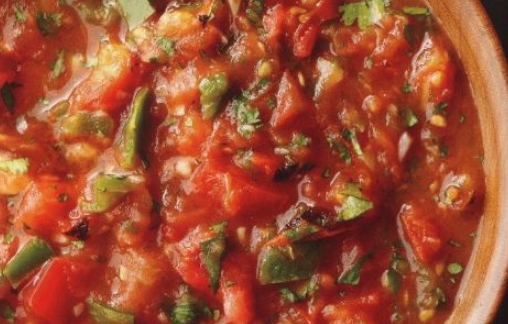 Servings: 24
Cook: 55 mins
Ingredients
Tomatoes – 3 pcs. (about 650 g)
Garlic (peeled) – 5 cloves
Chili-jalapeno pepper (seeded) – 1 pc.
Vegetable oil – 2-3 tbsp
Fresh cilantro (chopped) – 1 glass
Onions (chopped) – 1/3 cup
Lime juice – 1 / 4-1 / 3 cup
Sugar – 0.5 teaspoon.
Salt – 1 teaspoon
Directions
Switch on the oven with the top grill function for preheating. Cut each tomato into 8 pieces.
In a large bowl, combine tomatoes, garlic, and chili halves, drizzle with olive oil and stir. Place vegetables on a large baking sheet in one layer. Place the baking sheet under the grill for 8 minutes, until lightly charred. Let the tomatoes cool slightly.
Transfer the baked vegetables to the bowl of a kitchen processor, chop until smooth, but leave small pieces to avoid mashed potatoes. Then add cilantro, onion, lime juice, sugar, and salt to your taste to the tomato salsa, mix. Serve the tomato salsa immediately or cover and refrigerate for a maximum of 24 hours.
Enjoy your meal!
Also Like
Comments for "Tomato Salsa"