Wheat-Rye Bread with Honey
by Editorial Staff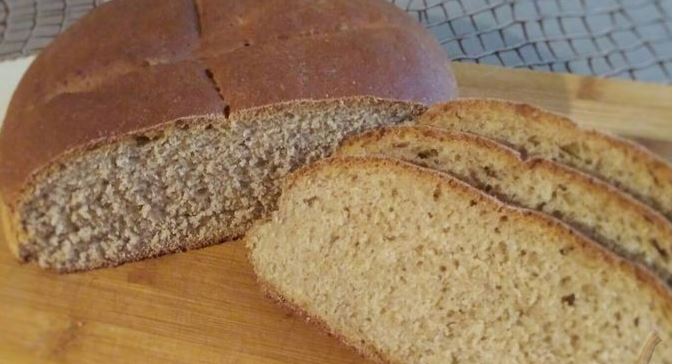 What could be tastier, more aromatic, and more comfortable than homemade bread ?!
Ingredients
Wheat flour – 175 g + for sprinkling the mold
Rye flour – 175 g
Water – 190 ml
Honey – 1 tbsp
Olive oil – 1 tbsp + for greasing the mold
Egg – 1 pc.
Fast-acting yeast – 1 teaspoon
Salt – 1 teaspoon
Directions
Sift two types of flour into a large bowl, add salt and yeast, mix.
Make a hole and pour warm water with honey into it. Beat in an egg, mix again.
Then pour olive oil, knead the dough for 5 minutes until smooth and smooth.
Put the dough ball into a ball, put it in a bowl, tighten it with cling film, or cover with a damp towel. Leave warm for 1 hour until the dough doubles in size.
Put the grown dough on a table sprinkled with flour, round and put in a greased baking dish, cover with a towel, and leave for 30 minutes.
Bake bread in an oven preheated to 180 ° C for 45-50 minutes.
Remove the finished bread from the mold and cool on the wire rack. A fragrant wheat-rye bread is ready.
Bon Appetit!
Also Like
Comments for "Wheat-Rye Bread with Honey"