Yellow Squash with Kale Pesto
by Editorial Staff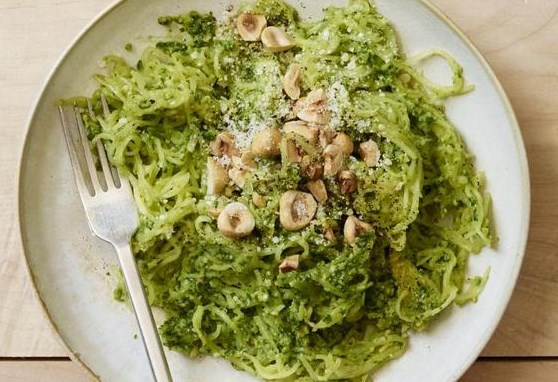 Looking at the plate with the dish, you might think that this is spaghetti with pesto sauce. In fact, this is the lowest-calorie and healthiest "paste" that nature itself has created. Since the pulp of the spaghetti pumpkin has the property of separating into individual fibers after baking, it remains only to extract them with a fork. Fried hazelnuts and kale pesto instead of basil are perfect for this "pasta". The dish turns out to be dietary, saturated with vitamins, trace elements, and fiber.
Cook: 45 mins
Servings: 4
Ingredients
1 medium yellow squash (approx. 1.4 kg)
1/3 Art. hazelnuts, roughly chopped
2 tablespoon. coarsely chopped feces leaves (approx. 60 g)
1/2 tablespoon. fresh parsley
1 clove of garlic
2 tbsp golden raisins
5 tbsp olive oil
1/4 Art. grated parmesan, plus extra for topping
1 teaspoon Worcestershire sauce
Directions
Preheat oven to 200 ° C. Cut the pumpkin in half and remove the seeds. Bake, then scrape the pulp to separate the fibers.
Meanwhile, fry the hazelnuts in a dry skillet over medium-high heat, stirring occasionally (about 3 minutes). Transfer to a plate and cool.
Beat the kale with parsley, garlic, raisins, and 2 tbsp toasted nuts in a blender or food processor before combining. Pour in 1/4 tablespoon. olive oil. Whisk until smooth. Add 1/3 tablespoon. water, parmesan, Worcestershire sauce, 1/2 teaspoon. salt and a little ground black pepper.
Pulse until the pesto ingredients combine, adding up to 3 tablespoon if necessary. l. water to make the sauce thinner. Season with salt and pepper again.
Heat the remaining 1 tbsp olive oil in a large skillet over medium-high heat. Add the yellow squash. Sear, stirring occasionally, to coat with oil.
Add 3/4 tablespoon. kale pesto. Stir to coat the pumpkin sauce, adding up to 1/2 cup. water for dilution. Season with salt and pepper. Sprinkle the pumpkin with the remaining toasted nuts and parmesan.
Also Like
Comments for "Yellow Squash with Kale Pesto"