Yoghurt Cupcake with Blueberries
by Editorial Staff
This recipe is incredibly easy to prepare a yoghurt cake, you don't need to whip or knead anything for a long time. You just need to mix all the ingredients and send the dough to the oven. The result is a tender, flavorful, moist cake with lots of blueberries.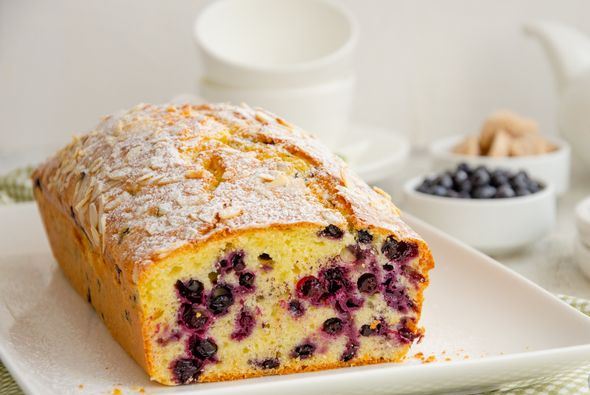 Cook: 70 mins
Servings: 8
Ingredients
Blueberries – 120 g
Natural yogurt, without additives – 190 g
Butter – 80 g
Eggs – 3 pcs.
Sugar – 120 g
Flour – 270 g (2 cups with a capacity of 200 ml)
Baking powder – 10 g
Starch – 1 tbsp
Vanilla sugar – 1 teaspoon
Almond petals (optional) – 2 tbsp
Powdered sugar (for decoration) – to taste
Directions
Prepare the required ingredients. If you don't have blueberries, you can add other berries or dried fruits to your cake to your liking. Immediately turn on the preheat oven to 180 ° C.
Rinse the blueberries and pat dry on paper towels. Transfer the berries to a deep bowl and add the starch (I have corn, but any will do).
Gently mix blueberries with starch. Set aside.
Melt the butter and combine in a bowl with yogurt, eggs, sugar and vanilla sugar.

Use a whisk to stir the contents of the bowl until smooth. You do not need to beat the mass.
Add sifted flour and baking powder.
Stir until a homogeneous dough is obtained.
Add the blueberries and gently use a spatula to stir in the dough.
Line the cake pan (my shape is 24x9x5 cm) with baking paper and fill with dough. Smooth the surface.

Sprinkle with almond petals on top, if desired.
Bake the blueberry muffin in a preheated oven at 180 ° C for about 1 hour. The baking time will depend on the height of the cake, so be sure to check the readiness with a wooden skewer.
Remove the finished cake from the oven and let it cool completely on the wire rack.
Sprinkle with icing sugar before serving.
Also Like
Comments for "Yoghurt Cupcake with Blueberries"