Yoghurt Cupcake with Grapes, Oatmeal and Spices
by Editorial Staff
A spicy yoghurt cake with grapes and oatmeal is a very easy to prepare, but interesting pastry for tea. Cupcake with grapes and oatmeal – sweet, aromatic, crumbly and slightly moist.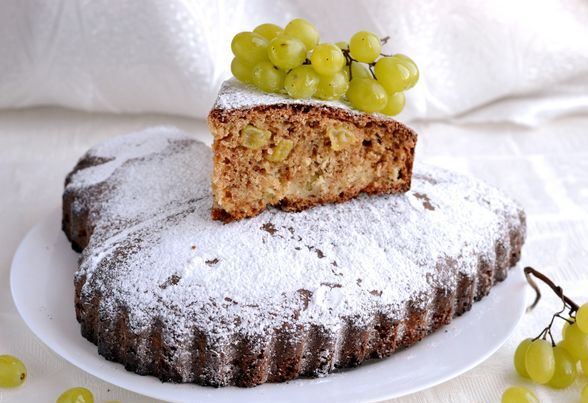 Cook: 45 mins
Servings: 7
Ingredients
Natural yogurt – 200 ml
Grapes – 200 g
Oatmeal flakes – 40 g
Eggs – 2 pcs.
Sugar – 180 g
Flour / s – 210 g
Baking powder – 1.5 teaspoon
Ground nutmeg – 1 pinch
Ground cinnamon – 0.5 teaspoon
Salt – 0.5 teaspoon
Vanillin – 1 pinch
Powdered sugar (optional) – for sprinkling on the cake
Directions
We prepare the necessary products. Yogurt can be replaced with kefir or yogurt. It is better to take grapes without seeds. Sift the flour (a little more than a glass and a half with a capacity of 200 ml). We select a tablespoon of flour and set aside for rolling the grapes.
Mix flour with oatmeal. Add baking powder.
Add cinnamon, nutmeg and salt. We mix.
Combine eggs, sugar and vanillin in another bowl.
Mix eggs with sugar using a whisk.
Add yogurt. We mix.
Add the liquid mixture to the dry mixture and mix the dough until smooth. We turn on the oven to heat up to 180 degrees.

We wash the grapes, dry them and roll them in flour, which we have saved especially for this.
Pour the grapes into the dough. Mix everything carefully.
Grease a baking dish with butter and put the dough into it. We place the cake in an oven preheated to 180 degrees and bake until golden brown, about 40-60 minutes. We check the readiness with a toothpick (i.e. after piercing the finished cake, the toothpick remains dry and clean). Watch out, if the top of the cake starts to blush too much, then cover the top of the cake with parchment paper. My shape is not high, and the cake was baked in 40 minutes.
Yoghurt cake with grapes, oatmeal and spices is ready. Leave the cake in the pan for about 10 minutes.

Then we take out the cupcake and cool it. Sprinkle the completely cooled cake (if desired) with powdered sugar.
Also Like
Comments for "Yoghurt Cupcake with Grapes, Oatmeal and Spices"