Asparagus Salad with Mushrooms
by Editorial Staff
I bring to your attention a simple recipe for asparagus salad with mushrooms: I think it will appeal not only to those who love this "noble" vegetable but also to all fans of original flavor combinations.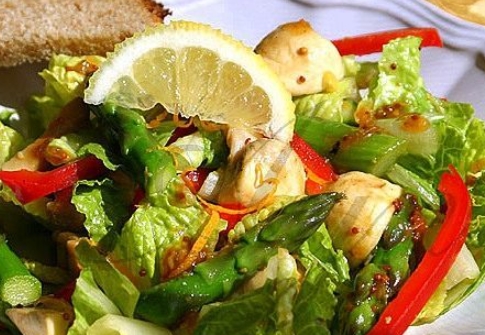 Servings: 3-4
Cook: 2 hours
Ingredients
Asparagus – 300 Grams
Mushrooms – 500 Grams (champignons, but you can risk it and replace with others – I think it will be even cooler with white ones)
Tomatoes – 2-3 Pieces (they can be replaced or supplemented with red bell pepper)
Lettuce Leaves – To taste
Leek stalks – 1-2 pieces
Lemon – 1 Piece
Vegetable oil – 2-3 Art. spoons
Sesame – 1 Tbsp. the spoon
Salt – To taste
Pepper – To taste
Directions
Remove Asparagus, wash well and peel off. Cut off the lower tough parts of the stems and cut into cubes about 3-4 centimeters long.

Cut the leek into thin rings.

Rinse lettuce leaves, dry and pick.
Wash the tomatoes and cut them into large slices. Combine lettuce, tomatoes, leek and sesame seeds.
Heat a frying pan with vegetable oil and fry the mushrooms over high heat – until an even ruddy color.
Add the asparagus and stir fry for another 5 minutes.
Salt and pepper the mushrooms and asparagus and leave under the lid until they cool completely. Then mix with salad base, season with lemon juice and stir.

Well, that's all – asparagus salad with mushrooms can be served on the table!
Bon Appetit!:)
Also Like
Comments for "Asparagus Salad with Mushrooms"