Baked Pasta with Vegetables and Cheese
by Editorial Staff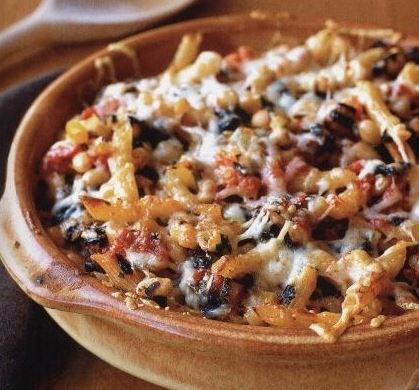 In our family, pasta is welcomed only with a rich delicious sauce, and even better, baked. This is one of my favorite recipes and it always goes with a bang.
Cook: 40 minutes
Servings: 6
Ingredients
Curly pasta – 230 g
Olive oil – 1 tbsp
Medium-sized onions (finely chopped) – 1 pc.
Celery stalk (finely cut) – 1 pc.
Garlic (chopped through a press) – 2 cloves
Canned tomatoes without skin in tomato juice – 800 g
Small white beans, canned (washed) – 800 g
Vegetable broth – 1 glass
Ground black pepper
Frozen spinach (thawed, drained) – 280 g
Hard cheese like Romano (chopped on a grater) – 1/2 cup
Directions
Turn on the oven to preheat to 200 degrees. Meanwhile, in slightly salted water, boil the pasta until al dente (slightly undercooked).
Heat olive oil in a large cast-iron pot (cauldron) over medium heat. Pour onion and celery into a cauldron, cook, stirring occasionally, until vegetables are soft, 9-10 minutes. Then add the garlic and cook for about 1 minute more. Remove the tomatoes from the juice jar and chop them into small pieces.
Add chopped tomatoes with tomato juice and beans to a saucepan with vegetables, pour over everything with broth, and sprinkle with 1/4 teaspoon of black pepper. Bring the contents of the saucepan to a boil over high heat, then reduce the heat to medium and add the spinach to the cauldron.
Drain the pasta by reserving 1/4 cup of water. Transfer the products to a cauldron with vegetables, add the reserved water and 1/4 cup of cheese, mix well (salt if necessary) and place in a large ovenproof dish. Sprinkle with the remaining cheese on top and place in a preheated oven. Cook for about 15 minutes, until golden brown on top.
Also Like
Comments for "Baked Pasta with Vegetables and Cheese"