Banana Milk Cupcake
by Editorial Staff
Banana cake with milk turns out to be very tender, sweet, slightly moist, with a well-pronounced banana aroma. A banana muffin like this is perfect for homemade tea.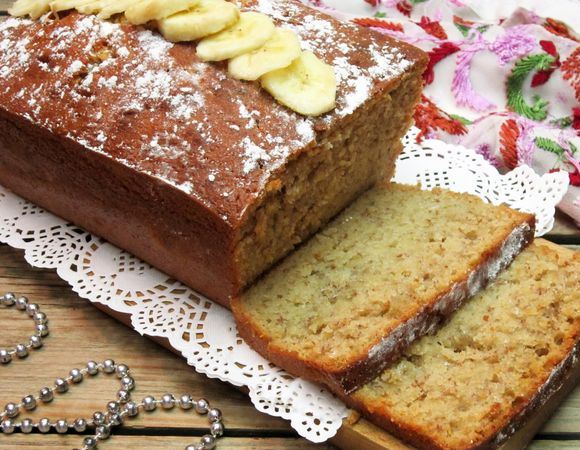 Ingredients
Bananas – 190 g (peeled)
Wheat flour – 250 g
Sugar – 250-270 g
Butter – 100 g + 15-20 g for greasing the mold
Milk – 100 ml
Eggs – 2 pcs.
Vanilla sugar – 1 teaspoon
Baking powder – 15 g
For decoration (optional):
Powdered sugar – to taste
Banana – 0.5 pcs.
Directions
We prepare all the necessary products. We take the butter out of the refrigerator in advance so that it has time to become soft. It is desirable that the butter and milk are at approximately the same temperature. We turn on the oven to heat up to 180 degrees.
Sift flour and mix with baking powder.
Cut the butter (100 g) into slices and place in a bowl.
Add sugar and vanilla sugar to the butter.
Mix slightly with a mixer.

Then pour in the milk.
Beat on medium mixer speed until smooth.
If the temperature of the butter and milk is different, the butter may "cut off" a little, but this will not affect the final result.
Peel the bananas and mash them with a fork.
Add the banana puree to the butter-sugar mixture.
Mix well at low speed of the mixer or with a whisk.
Then add eggs and mix until smooth.
Then add flour mixed with baking powder and mix well at low mixer revolutions until smooth.
The dough is ready. Grease a baking dish (I have 10×20 cm) with butter. Pour the dough into the prepared form.
We bake a banana cake in milk in the oven at 180 degrees for 30-50 minutes. The baking time depends on the height and shape of the cake. We check the readiness with a wooden stick: when piercing the cake, it should come out dry.
After 30 minutes of baking, the surface of the cake turned brown, but the cake inside was not yet baked, so I covered it with foil and baked for another 20 minutes. In total, the cake was baked for 50 minutes.
Remove the finished cake from the mold, sprinkle it with powdered sugar and decorate with banana slices.
Also Like
Comments for "Banana Milk Cupcake"