Beef Stew with Cumin
by Editorial Staff
If you cannot imagine cooking without aromatic spices and herbs, then this recipe will surely suit your taste. I present to your attention tender, juicy meat with cumin and fresh herbs.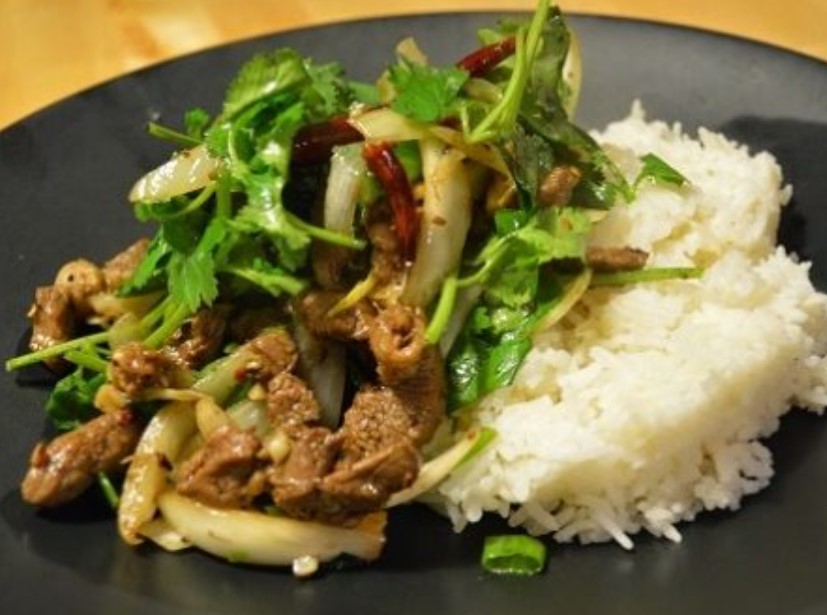 Cook: 45 mins
Servings: 2-3
Ingredients
Zira – 1 Teaspoon
Peppercorns – 1 Teaspoon
Salt and Chili – To taste
Beef – 400 Grams
Vegetable oil – 1
Onion – 1 Piece
Green onion – 1/3 Bunch
Garlic – 2-4 Cloves
Soy sauce – 1.5 tbsp
Broth or water – 1/2 Cup
Fresh herbs – 1 Bunch
Directions
In a dry frying pan, heat a little cumin and peppercorns. Cut the meat into thin strips and combine with salt and spices, add chili as desired. Toss and place in a skillet with heated oil. Fry until crusty. Add garlic, soy sauce and broth (water) to the meat. Simmer over low heat for about half an hour. Fry the onions (white and green feathers) separately in a little oil.
When the liquid from the meat has evaporated, add the onion to it.
Add washed, dried and chopped (coarsely) greens. Mix everything carefully, keep it on fire for just another minute.

And can be served with your favorite side dish.
Bon Appetit!
Also Like
Comments for "Beef Stew with Cumin"