Beef Stew with Oranges
by Editorial Staff
Today I wanted to put out something in pots, but in my case – in a large clay mold in the shape of a duck. Beef was cooked in orange sauce, baked with vegetables. The highlight of this recipe is beef with oranges and curry, all stewed with mushrooms and vegetables. It turned out cool, try it!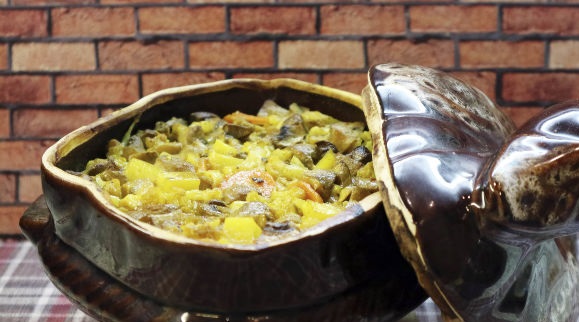 Cook: 4 hour
Servings: 6
Ingredients
Beef – 500 g
Oranges – 3 pcs.
Potatoes – 6 pcs.
Carrots – 1-2 pcs.
Champignons – 150 g
Cauliflower – 100 g
Curry – 2 tbsp
Dried garlic – 1 tbsp
Salt Ground black pepper
Vegetable oil
Directions
Cut the beef into 1-2 cm pieces, put in a bowl.

To make it easier to juice the oranges, place them in the microwave for 30 seconds. Then take a ride on the table. Cut two oranges in half and squeeze out the juice. Remove the zest from one orange. Add zest and orange juice to the meat.
Add curry, salt, pepper and garlic and stir. Marinate the beef in orange curry sauce for 1-2 hours (at least an hour).

Cut the potatoes into approximately 1.5 cm cubes. Cut the carrots into thin slices. Disassemble the cauliflower into identical small inflorescences. Cut the champignons into 4-8 pieces. Cut oranges into thin semicircles.
The meat must be "sealed" at high temperature in a frying pan, 5 minutes.

Put the fried meat in a large clay dish, oranges on it, then all the vegetables and mushrooms. Sprinkle the top layer with the rest of the orange curry sauce and some vegetable oil.

Bake beef with oranges, vegetables and mushrooms in the oven at 200-220 degrees, at first 40 minutes with the lid closed. Next, bake the meat with mushrooms and vegetables in a clay mold for another 40 minutes with the lid ajar. How to cook meat in pots – I think 40 minutes under the lid plus 20 minutes with the lid ajar. Ready-to-eat beef stew in orange sauce with vegetables and mushrooms can be salted to taste. Serve the beef as a main course.
Enjoy your meal!
Also Like
Comments for "Beef Stew with Oranges"