Bosnian Manti in the Oven
by Editorial Staff
Live and learn! And try new recipes! I am very glad that I tried this recipe! Manty in the oven with crispy puff pastry and juicy filling inside, according to a Bosnian recipe. So we haven't cooked manti yet! Tasty, simple, interesting! I recommend cooking to your health!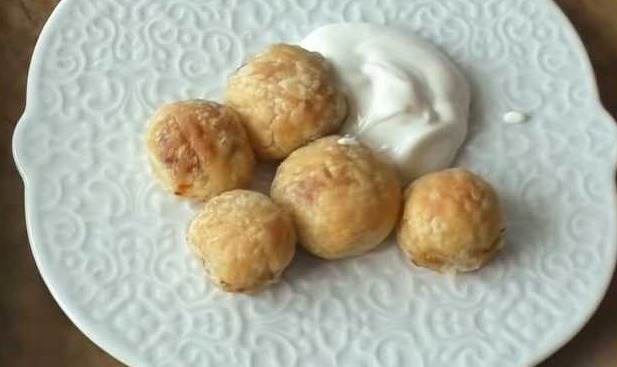 Ingredients
For the dough:
Flour – 500-600 g
Salt – 1 teaspoon
Vegetable oil – 2 teaspoon
Water (warm) – 300 ml
For filling:
Minced meat – 400 g
Bulb onions – 3 pcs.
Salt
Ground paprika
Ground black pepper
Vegetable oil for frying
Sour cream
Directions
Let's start by making the dough. Combine everything in one cup and knead for a few minutes. Do not add all the flour at once, the moisture content of the flour is different for everyone.
We need elastic dough, softer than dumplings. Put the finished dough into a bag to rest.
While the dough is lying down, prepare the filling.
In a small amount of vegetable oil, fry the diced onion and half the minced meat.
As soon as the onion and minced meat are ready, turn off the heat and add the remaining half of the minced meat, salt, paprika and black pepper. Mix well and cool.

Divide the dough into three parts and grease each piece well with vegetable oil. Cover with plastic wrap and let sit for another 15 minutes.
Vegetable oil with dough does wonders. The dough stretches perfectly with your hands and does not tear if pulled gently. We stretch the dough into a transparent layer.
Put a third of the filling on one edge of the layer and wrap it in a long blank sausage.
Now we cut the sausage into pieces 1.5-2 cm in size. Tuck the open edges down and place the Bosnian manti on the prepared baking sheet.

Everything is very fast! Lubricate the manti on a baking sheet with melted butter and send it to the preheated oven.
We bake manti in the oven at a temperature of 200-210 degrees for 40 minutes. I thought that 40 minutes would be a lot for such miniature manti, but everything turned out great!

Serving Bosnian manti with sour cream.
Delicious and very crispy! Bon Appetit!
Also Like
Comments for "Bosnian Manti in the Oven"