Pyanse (Pigody), or Manty in Korean
by Editorial Staff
Pyanse (pyogody) is a national Korean steamed pie. You can call it steam whitewash. Spicy tomato sauce or kimchi is served with pyansa. Korean carrots are good too. I love the steamed recipes and it's delicious.
Summary
| | |
| --- | --- |
| Prep Time | 1 hr |
| Cook Time | 30 mins |
| Total Time | 1 hr 30 mins |
| Course | Baking |
| Cuisine | Korean |
| Servings (Default: 1) | |
Ingredients
For the dough:
Flour - 550 g
Starch - 50 g
Water - 300 ml
Dry yeast - 1 teaspoon. (4-5 g)
Sugar - 2 teaspoon
Salt - 1 teaspoon (7-8 g)
Soda - 1/4 teaspoon.
Warm water (for soda) - 1 tbsp
Vegetable oil - for lubrication
For filling:
Minced meat (beef, pork) - 250 g
Peking cabbage (or white cabbage) - 400 g
Bulb onions - 1 pc. (150 g)
Garlic - 5 cloves
Salt - 1 teaspoon without top
Ground coriander - 1/2 teaspoon
Ground black pepper - to taste
Cold water - 1 tbsp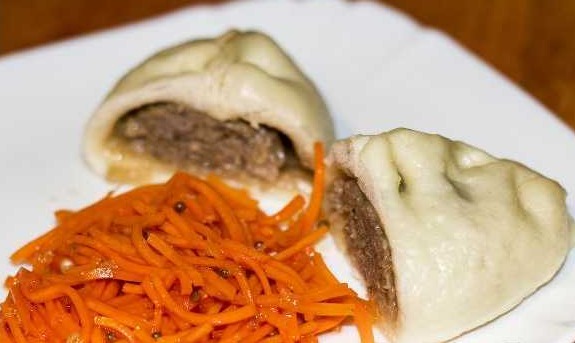 Directions
Prepare the dough. Take 50 ml of water from the total, add yeast, half the sugar and 2 teaspoons of flour there.
Mix everything and leave until a frothy cap appears.
Sift all the flour. Set aside about a fifth, about 100 g, to knead the dough.
Add the remaining sugar, starch and salt to the rest of the flour.
Make a well in the flour and add the remaining water, yeast and mix gently.
It is better to knead the dough on the table. Take the deferred flour and pour about half on the table.
You need to knead the dough for 7-10 minutes, until it becomes elastic and homogeneous, and does not stop sticking to your hands.

Pyanse (Pigody), or Manty in Korean

Lubricate the dishes with vegetable oil, put the dough there, grease the top of the dough with vegetable oil, cover with cling film and put in a warm place for 2-3 hours.
The dough should increase at least two and a half times.
When the dough comes up, put it on the table, make a depression and add soda dissolved in a tablespoon of warm water there.
Knead the dough again well.
You may need a little less flour, I have about 20 g left.
Roll out the dough into a rope and divide into 18 pieces (about 50 g each). Round off each piece by greasing your hands and table with vegetable oil. Grease the surface of each piece with oil and leave for 30 minutes.
Prepare the filling. Chop the Chinese cabbage.
Chop the onion very finely.
Grind the garlic in the same way.
Add chilled minced meat, soy sauce, coriander, a teaspoon of salt and pepper. Mix. Add a tablespoon of cold water for juiciness.
Cover the finished minced meat with cling film and put in the cold. Then, for convenience, divide the minced meat into 18 parts.
Start sculpting pyanse (pigody). Knead the dough into flat cakes 2-3 mm thick. Put the minced meat on the flat cakes.

Pyanse (Pigody), or Manty in Korean

Form a pyanse. Pinch the edges of the dough in the form of a pigtail or mold ordinary pies with cabbage and meat.
Place yeast dough pies in a double boiler, greasing its surface with vegetable oil. If you don't have a steamer, you can use a strainer or colander, or a special steamer that needs to be placed in a pot of boiling water.
You need to lay pyansa (Korean manti) at a distance from each other, since the dough is yeast and will rise.
The water level in the pot is low, the water should not touch the pense. When the water boils, reduce heat to low and cover the pot with a lid.
Cooking time for pyanse (pigody) is about 30-35 minutes. Steamed Korean belyashi (pies) will increase by about 1.5 times.

Pyanse (Pigody), or Manty in Korean
Bon Appetit!
Also Like
Comments for "Pyanse (Pigody), or Manty in Korean"