Caesar Salad with Lavash Chips
by Editorial Staff
Prepare the usual Caesar salad with chicken, replacing croutons with pita chips. Give your Caesar salad a new flavor!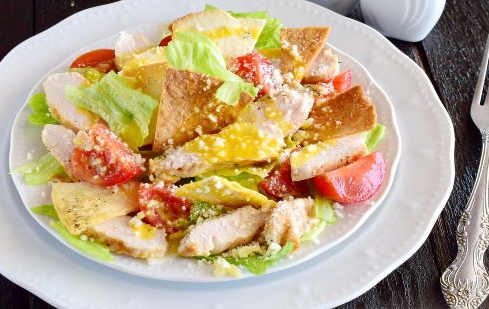 Servings: 2
Cook: 20 mins
Ingredients
Iceberg lettuce – 1 head of cabbage (200 g)
Chicken fillet – 1 pc.
Cherry tomatoes – 5-6 pcs.
Parmesan cheese – 30 g
Thin lavash – 0.5 pcs.
For the sauce:
Chicken egg – 1 pc.
Worcestershire sauce – 0.5 teaspoon
Lemon juice – 1 tbsp
Mustard – 1 teaspoon
Olive oil – 1 tbsp
Salt to taste
Ground black pepper – to taste
Directions
Let's prepare all the products for the Caesar salad with chicken and lavash chips.

Cut the lavash into small triangles. Put them in one layer on a baking sheet, drizzle with olive oil and sprinkle with salt and pepper. We send the baking sheet to an oven preheated to 180 degrees for 10 minutes. We take the dried pita chips out of the oven and let them cool.

Now let's start preparing the salad itself. Let's disassemble the Iceberg lettuce into separate leaves, wash them under running water and dry them with paper towels. Tear lettuce leaves into small pieces with our hands. Put the salad on a dish.
Cut the cherry tomatoes into quarters or halves (as you like) and place them on top of the lettuce leaves at random.
Sprinkle the chicken fillet with salt and pepper and fry in a grill pan for 5-7 minutes on each side.
Cool the fried chicken fillet a little and cut it into small pieces across the fibers. Put the chicken pieces on the salad platter.
Let's prepare a dressing for the Caesar salad. Boil an egg in boiling water for 1 minute – it will be completely liquid, that's what we need.
We clean the egg from the shell and put it in a bowl. Add Worcestershire sauce, lemon juice, mustard, olive oil, salt and pepper. Beat the dressing with a whisk until smooth.
Before serving the salad with chicken and tomatoes, put the pita chips on top and pour the Caesar salad with the prepared dressing.
Sprinkle the Caesar salad with chicken and tomatoes with grated Parmesan cheese on top.
Enjoy your meal!
Also Like
Comments for "Caesar Salad with Lavash Chips"