Lavash Croutons and Chips (Beer Cnacks)
by Editorial Staff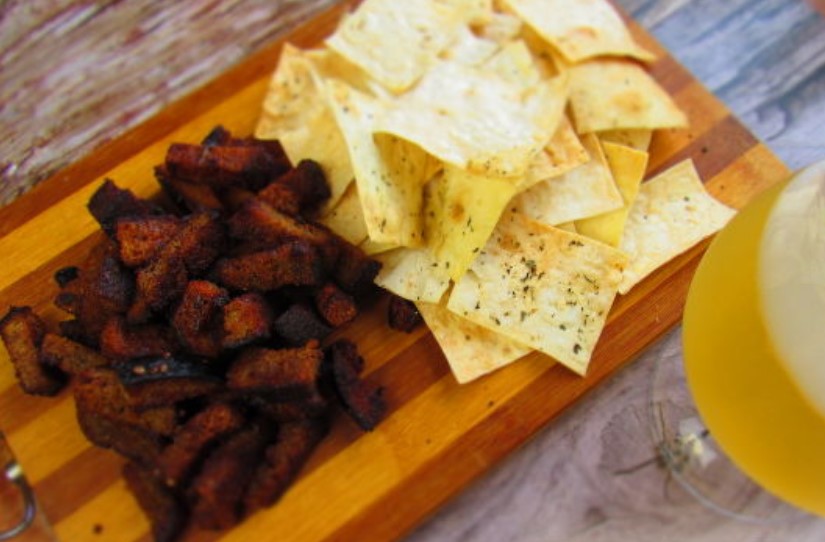 Rye croutons and lavash chips are great beer snacks or just an addition to first courses.
Ingredients
For croutons:
Rye bread – 5 slices
Tomato sauce – 2 tbsp
Garlic – 2 cloves
Olive oil – 2-3 tbsp
For chips:
Armenian lavash – 2 pcs.
Provencal herbs – 1 teaspoon.
Olive oil – 2-3 tbsp
Directions
Let's start with croutons. Fry the garlic cloves in olive oil.
Cut dark rye bread into cubes.
Throw away the garlic.
Put the sliced ​​bread into the pan, fry until golden brown.
When the bread is browned, add the tomato sauce or ketchup and mix well. The croutons are ready!

Cooking lavash chips. Cut thin pita bread into squares (it is convenient to cut it with scissors).
On a baking sheet covered with parchment, pour a little olive oil, put chopped pita bread.
Sprinkle with your favorite seasoning. Dry in an oven preheated to 150 degrees for about 1 minutes. The crispy chips are ready!
Help yourself!
Also Like
Comments for "Lavash Croutons and Chips (Beer Cnacks)"