Chips from Lavash
by Editorial Staff
I cooked many options, but of all I tried, I liked pita bread chips with sour cream and herbs, and with butter and paprika the most. Such lavash chips for beer are what you need!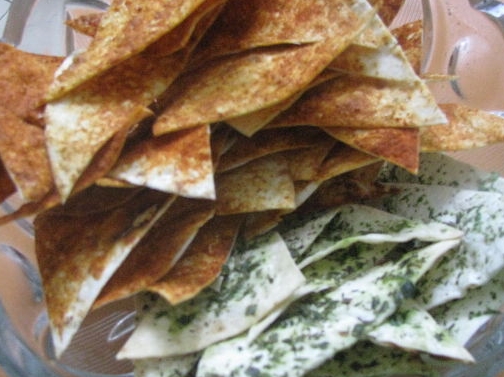 Servings: 2
Cook: 15 mins
Ingredients
Lavash – 2 sheets
Sour cream – 1 tbsp (about 30 g)
Salt to taste
Dried greens – 1-2 teaspoon. (taste)
Butter, melted – 1 tbsp (about 20 g)
Ground paprika – 1-2 teaspoon (taste)
Directions
Preheat the oven to 180-200 degrees. Grease a sheet of pita bread with a thin layer of sour cream, sprinkle with salt, and a mixture of dried herbs.
Grease another sheet of pita bread with melted butter, sprinkle with paprika.
After lubrication, cut the pita bread into pieces of any shape with scissors.
Place the pieces of pita bread on a baking sheet covered with parchment.
Keep the pita chips in the oven for no more than 5 minutes.
Enjoy your meal!
Also Like
Comments for "Chips from Lavash"