Lavash Tartlets
by Editorial Staff
When you need to quickly and elegantly set the table, these funny baskets help me out – stuffed with anything from lavash tartlets. Possible for New Year's table 2021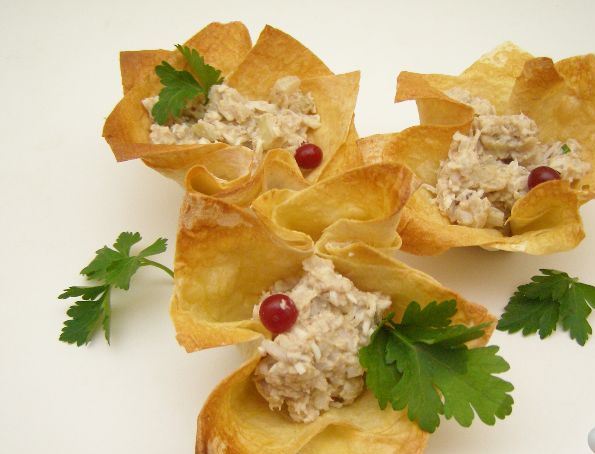 Cook: 15 mins
Servings: 6
Ingredients
For 18 tartlets:
Thin lavash (sheets measuring 30×50 cm) – 3 pcs.
Eggs – 1-2 pcs.
Directions
We cut each sheet of pita bread into squares with a side of about 10 cm. We sell pita breads of "standard" size, oval shape. A sheet of such pita bread must first be cut lengthwise into three parts. Then, if necessary, trim the rounded edges and cut the strips into squares.
Beat eggs lightly. (You can add salt, spices to eggs, but this is optional.)
To prepare one tartlet, you need two squares of lavash. We moisten them in an egg on one side. You can use a special brush. Or dip one side of one of the squares into an egg, and then rub the sheets of pita bread against each other, evenly distributing the egg over the surface.

Then fold the squares diagonally on top of each other with the smeared side up. We put the blank in the mold.
We do the same with the rest of the pita bread. We put all the molds on a baking sheet.
Preheat the oven to 220-230 degrees. Place a baking sheet with tartlets in the upper third of the oven. We bake lavash tartlets for 5-10 minutes. Care should be taken to ensure that the edges are browned but not burnt. Then turn off the oven and leave the tartlets in the oven for another 10 minutes.

Ready-made lavash tartlets can be filled with whatever you want: salad ("crab" with rice and eggs, squid or shrimp, from fried mushrooms, etc.), cheese with garlic, liver pâté, fruit (sweet salad). You can use the tartlets as vases – for example, for nuts. It's for your taste. Bon Appetit!
Also Like
Comments for "Lavash Tartlets"