Cake "New"
by Editorial Staff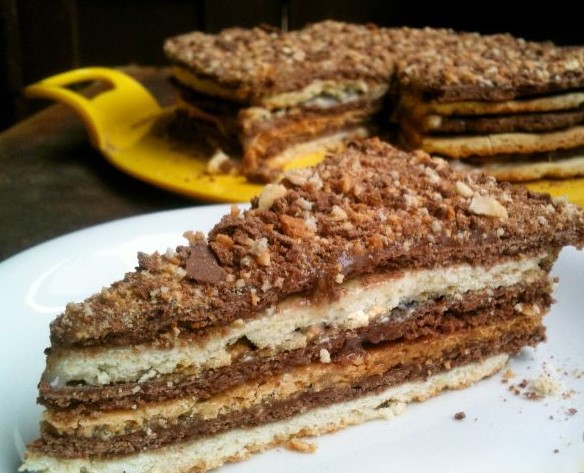 A very simple sour cream cake – made from sour cream cakes with the addition of cocoa, with sour cream.
Cook: 1 hour 30 minutes
Servings: 8
Ingredients
For dough:
Sour cream – 200 g
Butter – 30 g
Flour – 500 g
Sugar – 200 g
Soda – 5 g
Cocoa powder – 20 g
For the cream:
Sour cream – 1 glass
Sugar – 1 glass
Directions
Mix the dough ingredients and knead the dough. To do this, first, combine sugar and butter.
Add sour cream, stir.
Pour in sifted flour and soda, mix thoroughly.
Divide the dough into 2 pieces. Add cocoa to one part. Knead the chocolate dough until smooth.

Divide each part into 3 parts and roll out 6 cakes – 3 white and 3 chocolate. It is convenient to do this between two sheets of parchment paper.
Bake each cake in a hot oven on a baking sheet greased with butter (optional) for 10-15 minutes at 180 degrees.
Give the cakes the same shape, cut off the excess with a knife.

Grind the crumbs with a rolling pin.
For the cream, mix sour cream and sugar.
Grease the cakes with sour cream, alternating them in color.

Sprinkle the top cake with the crumbs obtained by cutting the cake layers.
Place the sour cream cake in a cold place for several hours to soak.
Cake "Novelty" with sour cream is ready!
Also Like
Comments for "Cake "New""