Carrot-Apple Smoothie with Orange and Sunflower Seeds
by Editorial Staff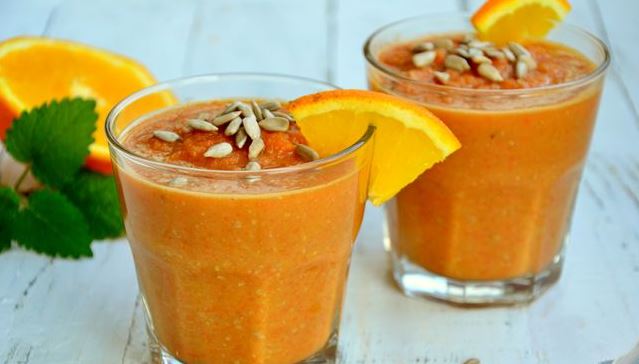 Bright and nutritious breakfast – thick smoothie with carrots, apples, orange, and sunflower seeds. This sunny orange fruit and vegetable drink is a great way to provide your body with energy!
Cook: 10 minutes
Servings: 2
Ingredients
Carrots – 2 pcs. (350 g)
Apple – 1 pc. (100 g)
Orange – 1/2 pc. (150 g)
Drinking water – 100 ml
Sunflower seeds – 50 g
Directions
Peel carrots and apples and wash thoroughly. Remove the seeds from the apple. Coarsely chop the apple. Peel the orange, disassemble it into slices and, if possible, remove the white partitions. If desired, the orange slice can be set aside for serving.

Grate the carrots on a fine grater. Place the orange in a blender bowl and puree.
Add coarsely chopped apples and grind again with a blender. Put the grated carrots into the blender bowl to the fruit puree and chop again.
Add peeled sunflower seeds to the smoothie, setting aside a pinch to serve if desired. Whisk on a high-speed blender until smooth.

Add water and beat again at high speed. The smoothie turns out to be quite thick, with small grains.
Pour the sunflower-carrot-apple smoothie into glasses and serve, garnished with an orange slice and sunflower seeds if desired.
In terms of the number of nutrients, such a vitamin drink can replace a full breakfast. Carrot smoothie is not only very good for digestion and vision, but also delicious!
Bon Appetit!
Also Like
Comments for "Carrot-Apple Smoothie with Orange and Sunflower Seeds"