Cheese Baskets (Tartlets)
by Editorial Staff
Tartlet baskets made from cheese melted in the oven. Cheese tartlets are perfect for filling a wide variety of fillings.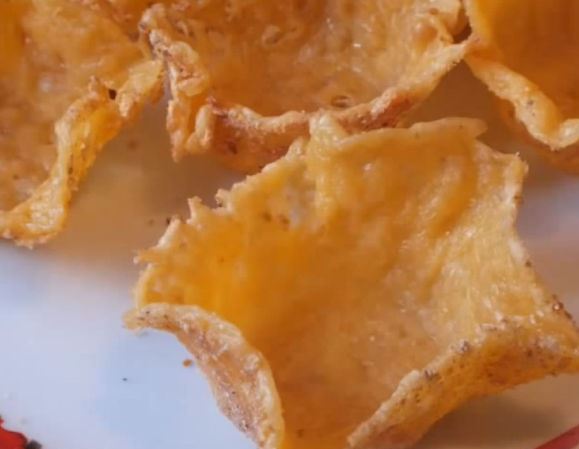 Ingredients
Hard cheese – 200-250 g
Breadcrumbs
Directions
Grate the cheese on a fine grater.
Cover the baking sheet with baking paper.
Take a suitable cylindrical shape and place on a baking sheet. Sprinkle some bread crumbs (about a pinch) in the middle so that the cheese does not stick to the paper. This can be done without a form.
Pour a layer of grated cheese (about 0.5 cm high) onto the crackers. Flatten it. Remove the form.
In the same way, make the rest of the round cheese blanks.

Preheat the oven. Bake the cheese at 180 degrees for 5-7 minutes so that it melts.
Prepare shapes (eg inverted stacks). While it is hot, separate the cheese from the paper with a spatula, immediately place it on a glass dish and press the edges with your hands. Leave to cool completely. Then put the tartlets in the refrigerator for an hour.
Remove the finished tartlets from the cups. The tartlets are ready, you can fill them with any filling.
Also Like
Comments for "Cheese Baskets (Tartlets)"