Tartlets with Onion and Cheese
by Editorial Staff
Tartlets with onions and cheese are a great appetizer for any table.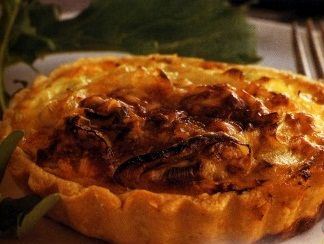 Servings: 6
Ingredients
Onions (cut in half rings) – 1 pc.
Dried thyme – 1/2 teaspoon
Leeks (thinly sliced) – 450 g
Gruyere cheese or similar (shredded on a grater) – 50 g
Butter – 25 g
Eggs – 3 pcs.
Low-fat cream – 300 g
Pinch of ground nutmeg
Salt to taste
Ground black pepper – to taste
Lettuce leaves for serving (optional)
Softened butter for greasing forms
*
For the test:
Flour – 180 g
Chilled butter – 80 g
Egg yolk – 1 pc.
Cold water – 2-3 tbsp
Salt – 1/2 teaspoon
Directions
First you need to prepare the dough for the tartlets. Sift flour into a large bowl, add chilled butter and mix by hand until smooth, crumbly.
In the flour mass, make a depression, pour water, egg yolk into it and add salt, knead a homogeneous dough, form into a ball, wrap with foil and put in the refrigerator for 30 minutes.
Lubricate 6 heat-resistant molds with a diameter of 10 centimeters with softened butter. Remove the cooled dough from the refrigerator, roll out on a floured surface to a thickness of about 3 millimeters. Cut circles with a round shape with a diameter of 12.5 centimeters. Arrange these circles in oiled tins, spread well over the entire inner surface. Put the blanks in the refrigerator for 30 minutes.
Turn on the oven to preheat to 190 degrees. Remove the blanks for tartlets from the refrigerator, cover the dough with foil and fill with legumes (beans, peas, etc.). Move the tins to a baking sheet and put in a preheated oven, bake the tartlets for 6-8 minutes, until the edges are golden brown.
Remove the beans and foil, put the tartlets back in the oven and bake for a couple of minutes. Transfer the biscuits to a wire rack and let cool slightly. Reduce the temperature in the oven to 180 degrees.
Heat the butter in a large skillet, add the onions and thyme, cook, stirring occasionally, for 3-5 minutes. Pour the leeks into the pan and cook for another 10-12 minutes, until all the onions are soft.
Put the onion mixture in prepared tartlets, sprinkle with cheese. Transfer the molds to a baking sheet.
In a small bowl, beat eggs with cream, nutmeg, salt and pepper. Pour onion in tartlets with this mass.
Place the baking sheet in a preheated oven and bake the filled tartlets for about 15-20 minutes, until golden brown.
Remove the cheese and onion tartlets from the oven, let cool in the tins on the wire rack for about 5 minutes, and then remove the tartlets from the tins. Serve the cheese and onion tartlets with lettuce (optional).
Also Like
Comments for "Tartlets with Onion and Cheese"