Cheesecake "Oreo"
by Editorial Staff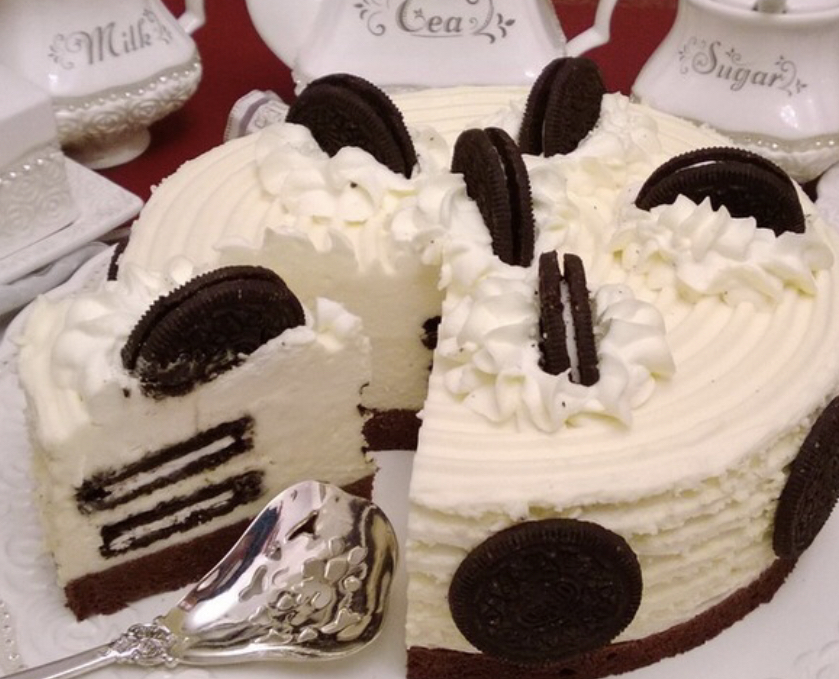 Oreo Cookies are the secret of this insanely delicious Cheesecake! I invite you to a tea party!
Ingredients
Cookies (300 for the base and 200 for decorating the Oreo) – 500 g
Butter – 50 g
Cream cheese (Philadelphia) – 500 g
Powdered sugar – 130 g
White chocolate – 100 g
Vanilla essence – 1 teaspoon
Cream (35%) – 500 g
Gelatin – 30 g
Water – 50 g
Directions
We need Oreo cookies.
Grind the cookies into crumbs (preferably in a food processor). Stir in melted butter.
Tamp the biscuits around a 24 cm circle.
Melt the chocolate in a water bath.
Soak gelatin in 50 g water. Then dissolve the gelatin in a water bath.
Stir cream cheese and icing sugar until smooth. Attention!!! Philadelphia should be at room temperature, this is necessary so that the melted chocolate does not clump.
Fill with white chocolate and stir.
Pour the melted gelatin and mix intensively until smooth.
Add vanilla and stir.
In another container, whip the cream.
Add the cream in three stages, stirring with a spatula. The cream is ready.
The cream hardens quickly, so hurry to put the cream on the cake.
Layout some of the creams and place the cookies on top along the peri, as in the photo. The next layer of cream and cookies again. Top cream. Put the cookies so that they are approximately on the same level as the previous layer.
We send the cheesecake to the refrigerator for a couple of hours.
Decorate the cake with whipped cream and Oreo cookies.
If you want a beautiful cut, do this with a hot, dry knife.
Enjoy your meal!
Also Like
Comments for "Cheesecake "Oreo""