Vanilla Cheesecake with Oreo
by Editorial Staff
Cheesecake is the perfect dessert for me. It can be served on a holiday or made for an afternoon snack. A delicious and healthy dessert for the whole family. Here's how to make a vanilla cheesecake with Oreo.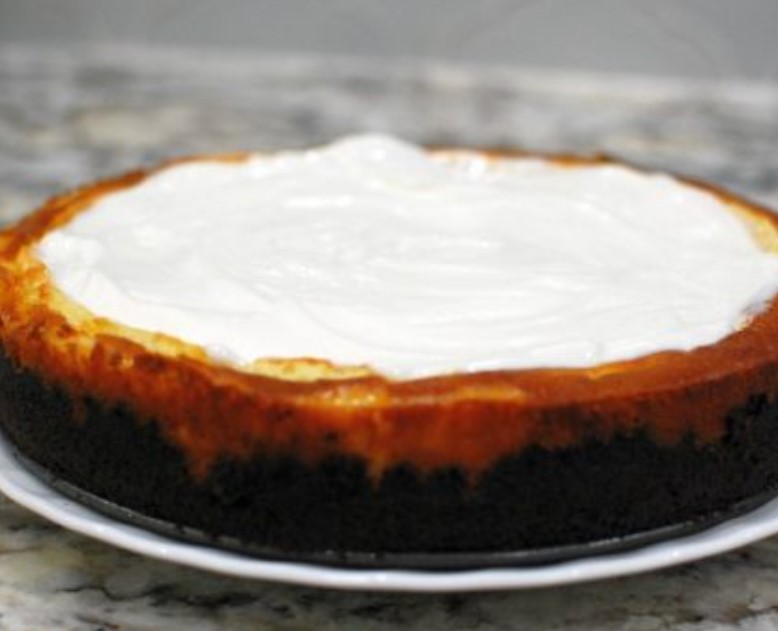 Cook: 5 hour
Servings: 8-10
Ingredients
Cookies "Oreo" – 14 Pieces
Butter – 2 Tbsp. spoons
Cream cheese – 680 Gram
Sugar – 1 Glass (+3 tablespoons)
Vanilla pod – 1-2 Pieces
Salt – 1 Pinch
Sour cream – 2 glasses
Eggs – 3 Pieces
Vanilla extract – 1 Teaspoon
Directions
Place cookies in a blender bowl and grind into crumbs. Add melted butter to it and stir.
In a split baking dish, place the crumb and press it to the bottom, forming the base and sides.
With a mixer, mix cream cheese, 1 cup sugar, open the vanilla pods and remove the seeds, add them to the rest of the ingredients, add salt and add 1 cup sour cream, mix everything well.
Whisk in the eggs and stir in the cheese mixture again.
Pour the mixture into a mold with base and flatten.

Send the form into an oven preheated to 180 degrees on the upper rack, place the form with water under the bottom and make sure that the water does not evaporate
Bake the cheesecake for about 1 hour.
Turn off the oven, open the door and leave the cheesecake in the oven for another 1 hour.
Remove the pastries from the oven. Combine the remaining sour cream, sugar, vanilla extract.
Place prepared mixture on top of the cheesecake.
Place the pastries in the refrigerator for a few hours to cool.
Bon Appetit!
Also Like
Comments for "Vanilla Cheesecake with Oreo"