Cheesecake "Red Velvet" with Oreo
by Editorial Staff
Holidays are days on which you want not only to look especially yourself, but also to serve your guests with interesting food. In this recipe, you'll learn how to make Red Velvet Cheesecake with Oreo!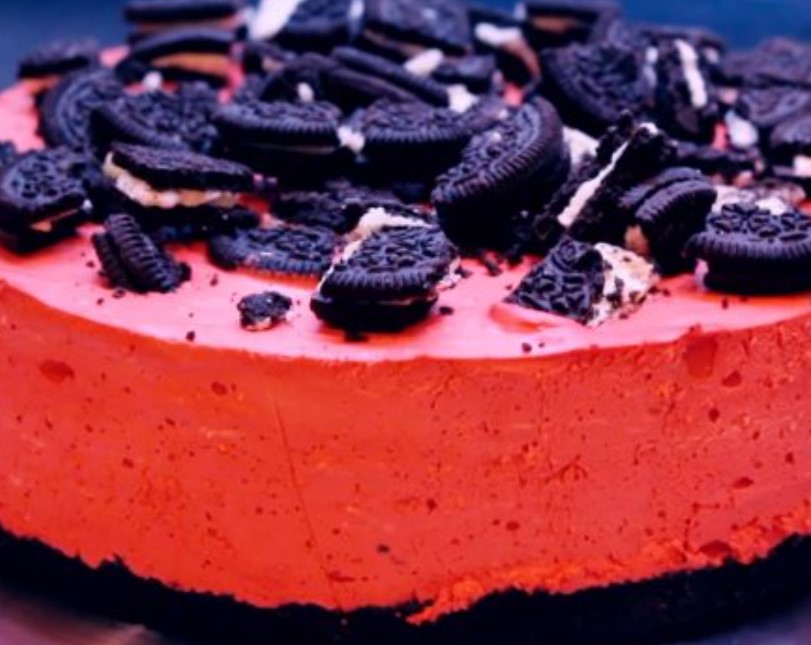 Cook: 6 hour
Servings: 7-9
Ingredients
Cookies "Oreo" – 200 Grams
Butter – 60 Grams
Gelatin – 15 Grams
Sugar – 60 Grams
Cream cheese – 850 Grams
Water – 60 Milliliters
Milk – 180 Milliliters
Sour cream – 2 Art. spoons
Cocoa – 2 Art. spoons
Dye – To taste
Directions
First split the oreo and remove the filling, it is not needed in this recipe. Send the peeled cookies to the blender bowl, grind them into dry crumbs.
Melt the butter, add it to the crushed cookies. Mix everything well until smooth.
Line the bottom of the springform pan with sheet parchment. Buttered cookies are the basis for the future cheesecake, distribute it well and tamp it in a mold (it is convenient to do this with a glass). Send the base to the refrigerator for at least 30 minutes.
Fill the gelatin with water and let it swell for 20 minutes.
Lightly mash the cream cheese with a mixer. Add sour cream and a few tablespoons of cocoa to make the color of the mass very slightly chocolate.
Take 180 milliliters of milk, add sugar to it. Heat the mass to a very warm state, but by no means to hot. Add the swollen gelatin, dissolve it. Add gelatin with milk to the curd mass. Beat everything with a mixer so that there are no lumps.

Make the mass red by adding gel food coloring. Mix well for an even color. Place the filling on the base and leave in a cool place for at least 4 hours.
You can decorate the cheesecake before or after hardening.
Bon Appetit!
Also Like
Comments for "Cheesecake "Red Velvet" with Oreo"