Cheesecake with Fresh Berries
by Editorial Staff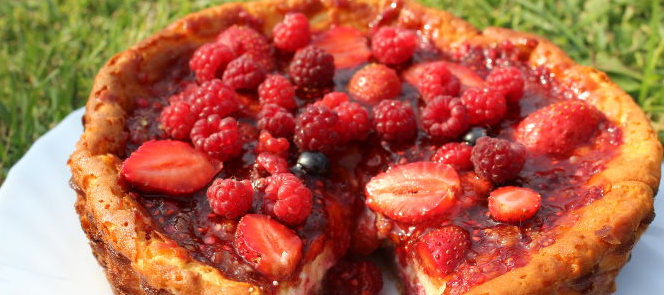 A beautiful summer dessert – cheesecake with fresh berries: raspberries and strawberries, will decorate any festive table.
Servings: 8
Ingredients
Raspberries – 200 g
Strawberry – 100 g
Shortbread cookies – 150 g
Butter – 75 g
Cream cheese (mascarpone) – 250 g
Eggs – 2 pcs.
Flour – 1.5 tablespoon.
Sugar – 150 g
Vanilla sugar – 15 g
Sour cream – 125 ml
Directions
Collect all ingredients for the Berry Cheesecake.
Place the cookies in a plastic bag and roll them into small crumbs with a rolling pin.
Melt the butter.

Mix the butter with the cookies.
Put the cookies with butter in a mold, press firmly with your hands to the bottom and walls of the mold. Put the "dough" in the oven preheated to 180 degrees for 5 minutes.
Add sugar, flour, eggs, vanilla sugar, and sour cream to the mascarpone. Beat the mixture with a mixer.
Stir in the cream carefully 2/3 of the berries.
Remove the "dough" from the oven (if the mold is silicone, then directly on the baking sheet). Put buttercream with berries on the base, smooth.
Put the mold in the oven for 40 minutes, after the time has elapsed, turn off the oven and leave the cheesecake in the oven for another 15 minutes.
When the dessert has cooled, put it in the refrigerator for 3-4 hours.
You can simply garnish the cheesecake with raspberries and strawberries. Or you can make the caramel, add berries to it. Put the slightly cooled berry caramel on the cheesecake and chill the cheesecake with berries in the refrigerator for 30 minutes.
Bon Appetit!
Also Like
Comments for "Cheesecake with Fresh Berries"