Chicken Fillet Rolls with Mushroom Filling
by Editorial Staff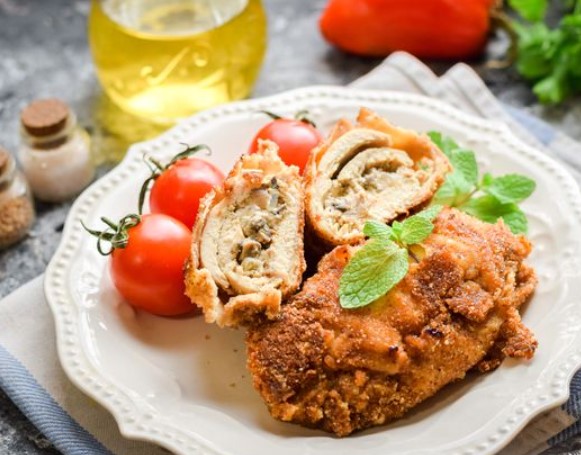 It can be said without exaggeration – these are delicious chicken fillet rolls! Cooking the second course according to this recipe will permanently expand your usual menu with another culinary masterpiece. Fillet is initially marinated, cutlets-rolls are prepared not from minced meat, but from broken pieces of chicken fillet. For the filling, mushrooms with sour cream are used, and on top you can make a crispy appetizing breading.
Cook: 3 hours 30 mins
Servings: 4
Ingredients
Chicken fillet – 450 g
Champignons – 200 g
Onions – 70 g
Sour cream – 2 tbsp
Flour – 95 g
Egg – 1 pc.
White loaf – 3-4 slices
Vegetable oil – 3 tbsp
For the marinade:
Soy sauce – 70 ml
Lemon – 50 g
Mustard – 1 teaspoon
Garlic – 1 clove
Salt to taste
Ground black pepper – to taste
Directions
Prepare all products according to the list. During the cooking process, you will need cling film.

Wash fillets, dry with paper towels. Cut each chicken fillet into 2 layers, put on a work surface, cover with cling film and beat off with a kitchen hammer.
Peel the garlic and pass through a press. Transfer the chops to a bowl, add mustard, soy sauce, minced garlic, lemon juice, salt and pepper.
Stir all the ingredients well and send the chicken to the refrigerator to marinate for 2-3 hours.
While the chicken is marinating, you can make homemade bread crumbs. Preheat oven to 190 degrees. Cut the white loaf into pieces of about the same size. Put the loaf slices on a baking sheet and dry in the oven for 8-10 minutes at 190 degrees. Cool the rusks, break them and put them in a blender bowl.
Grind the crackers in a blender until finely crumbled.

Rinse the mushrooms, dry and chop finely. Peel the onion and cut into small cubes.
Heat some oil in a frying pan. Put onions, mushrooms in a frying pan and fry for 5-6 minutes.
Add sour cream, flour (0.5 tablespoons), salt and ground pepper to the pan.
Over medium heat, stirring constantly, heat the mushrooms with sour cream for literally 2 minutes.
Remove the marinated chicken from the refrigerator. Put the chop on a work surface, put 1 tablespoon on the short edge of the chop. spoon with a slide of mushrooms.
Roll the fillet into a roll so that the filling is inside.
Prepare food for breading. Pour flour (80 g) and homemade bread crumbs into different containers. Break the egg into a separate container and loosen it with a fork. Dip the roll blank on all sides in flour.
Then dip in an egg.
Next, breaded a roll in breadcrumbs.
Do the same with all the blanks. Put the rolls in the refrigerator for 30 minutes.

After a while, heat the pan, grease with oil. Reduce the heat to a minimum, put the cutlets-rolls and fry for 10 minutes on each side (under the lid).
Appetizing and chic chicken fillet rolls with mushroom filling are ready. You can serve such rolls with mashed potatoes, cereals, vegetable salads.
Good appetite!
Also Like
Comments for "Chicken Fillet Rolls with Mushroom Filling"