Meat Rolls with Cheese and Mushroom Filling
by Editorial Staff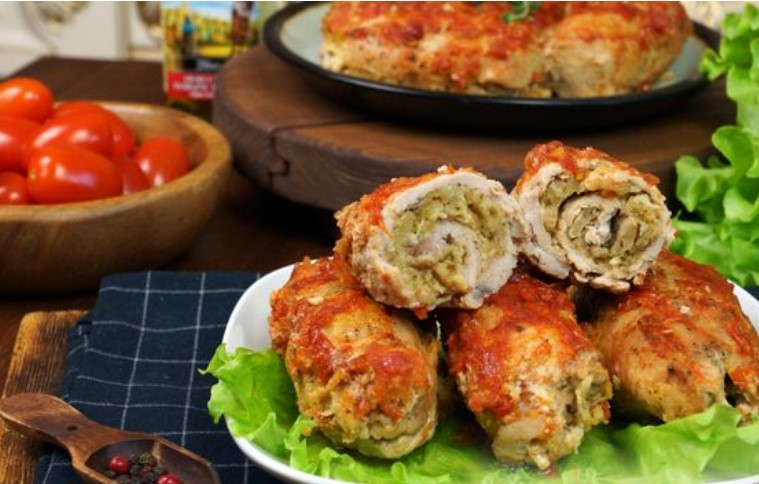 Hearty, soft, juicy meat rolls in tomato sauce with spicy spices. Pork rolls with cheese and mushroom filling are a great option for a meat snack for any holiday. Also great for lunch or dinner, with a side dish of your choice.
Ingredients
Pork without bone – 800 g
Chopped tomatoes (fresh, frozen or in their own juice) – 350 g
Hard cheese – 120 g
Champignon mushrooms – 120 g
Egg – 1 pc.
Bulb onions – 1 pc.
Garlic – 3 cloves
White bread – 2 slices
Dried Provencal herbs – 1 tbsp
Vegetable oil – 4 tbsp
Salt to taste
Ground black pepper – to taste
Directions
Prepare all ingredients. To begin with, slightly freeze a piece of pork without bone, so it will be much more convenient to cut.

Cut the pork pulp into plates no more than 1.5 cm thick.
Cover the meat with cling film or a plastic bag so that there is no excess dirt in the kitchen, and beat off well.
Align the entire surface of the chop in thickness. Season with pepper and salt. Leave to rest.
Making the filling. Cut the peeled onion into half rings.
Grate cheese on a fine grater (I have Russian cheese, but you can take any cheese you like, the main thing is that the cheese is of hard varieties).
Cut the mushrooms into small pieces.
Pass the garlic through a press.
Cut white bread at random and dry in a dry frying pan.
Grind the dried bread in a blender. If you don't have a blender, you can chop the bread with a knife, you can put it in a tight bag and beat it with a hammer, or skip the bread through a meat grinder. In extreme cases, use purchased ground breadcrumbs.
Pour 2 tablespoon into a frying pan. tablespoons of vegetable oil and lightly fry the onion until golden brown.
Pour mushrooms into a frying pan with onions. Simmer over medium heat for 10-12 minutes, covered. Do not salt.
Combine grated cheese, mushrooms with onions, crackers, egg, garlic and a mixture of herbs in a deep bowl. Mix. If the mixture is not salty enough, add a pinch of salt (my cheese is salty enough and I will not add salt).
Thoroughly grind the bread and cheese filling. If it's too dry, you can add another small egg.
Put a layer of bread and cheese filling with mushrooms on the pork chops. Spread over the entire surface, gently pressing into the meat. Leave some space around the edges.

Roll tightly. You do not need to fasten the meat rolls. At this stage, you can turn on the oven to heat up to 180-190 degrees.
Prepare a baking dish: brush with 2 tablespoon. tablespoons of vegetable oil. Arrange the pork rolls with mushrooms and cheese. They should fit snugly against each other, so the size of the mold should correspond to the number of rolls.
Chopped tomatoes (tomato puree) season with salt, pepper and spices, mix. I have frozen chopped tomatoes. Since summer, in a big crop of tomatoes, I pass them through a blender and freeze them in muffin tins. Alternatively, you can use fresh, chopped tomatoes or tomatoes in your own juice.
Pour the tomato mixture evenly over the stuffed meat rolls.
Cover the mold tightly with foil.
Send to the preheated oven and bake pork rolls with mushrooms and cheese for about 35-40 minutes. Then remove the foil and send the meat rolls back to the oven for a golden brown crust for 10-15 minutes. Periodically moisten the surface of the rolls with tomato sauce in which they are baked.
Meat rolls with cheese and mushroom filling, baked in tomato sauce, are juicy and soft. The filling stays inside as the bread crumbs securely keep the cheese and mushrooms from flowing out. Serve the rolls hot with a side dish to your liking.
Bon Appetit!
Also Like
Comments for "Meat Rolls with Cheese and Mushroom Filling"