Chicken Heart Cupcakes with Semolina
by Editorial Staff
Light, miniature chicken heart muffins with semolina and fried carrots and onions are a great budget snack that is equally appetizing hot or chilled. Chopping the ingredients in a blender and adding eggs and semolina instead of flour gives the dough a lightness and uniform texture, and chicken hearts, dried herbs and vegetables – satiety and pleasant taste. The muffins are juicy and tender, with an appetizing crispy crust. Try it!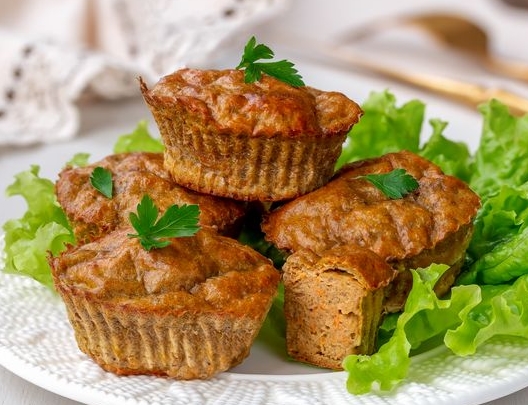 Cook: 1 hour
Servings: 8
Ingredients
Chicken hearts – 350 g
Bulb onions – 1 pc. (180 g)
Carrots – 120 g
Eggs – 2 pcs.
Semolina – 50 g
Water (boiling water) – 70 ml
Salt to taste
Ground black pepper – to taste
Dried Provencal herbs – 1 teaspoon
Vegetable oil (for frying) – 2 tbsp
For the filling (optional):
Fresh parsley – 1 sprig
Lettuce leaves – 1-2 pcs.
Directions
Prepare foods on the list.

Transfer the semolina into a deep bowl and cover with boiling water. Stir and leave for about 5 minutes to swell the semolina.
Cut chicken hearts in half, rinse thoroughly with cold water, remove blood clots and films, cut off excess fat if desired.
Turn on the oven to preheat to 180 degrees. Grate the peeled carrots on a fine grater. Peel the onion and cut into small cubes.
Heat vegetable oil in a skillet over medium heat and add chopped onions and carrots. While stirring, fry the vegetables for about 7-8 minutes, until tender.
Combine the hearts and eggs in a blender bowl. Whisk everything on high speed for about 1-2 minutes, until smooth.
Add sauteed onions and carrots. Whisk still for about 1-2 minutes.
Add the swollen semolina, salt, ground black pepper and the dried herbs mixture.
Whisk still for about 1 to 2 minutes, until smooth.
Divide the mixture into single serving muffin tins. I use silicone molds, so I don't grease them with anything. If you have ceramic or iron ones, you can grease them with vegetable oil.
Place the pieces in the oven, preheated to 180 degrees, and cook for about 35-40 minutes, until they are crispy, golden brown on the surface. Then cool the muffins slightly.

Remove the chicken heart muffins from the molds and serve.
Bon Appetit!
Also Like
Comments for "Chicken Heart Cupcakes with Semolina"