Chicken on a Garlic Pillow
by Editorial Staff
Today I want to invite you to cook a delicious, satisfying and very festive dish – chicken on a garlic pillow. The whole highlight of the dish lies in the abundance of garlic on which the chicken is baked.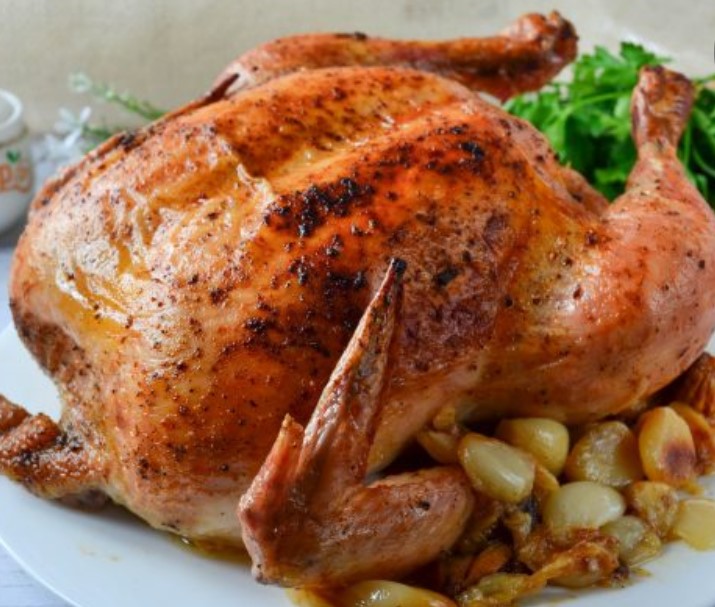 Cook: 1 hour
Servings: 4-5
Ingredients
Chicken – 2 Kilograms
Garlic – 3-4 Pieces (heads)
Salt – 1 Teaspoon
Ground allspice – 1/2 Teaspoon
Chicken Spices – 1-2 Teaspoons
Directions
Prepare all the ingredients you need. Peel the garlic, rinse the chicken and pat dry with paper towels.
Place the peeled garlic on the bottom of a baking dish. The more garlic, the tastier it will be.
Rub the chicken with salt, pepper and spices. Massage well so that the spices are well distributed over the entire surface and penetrate as much as possible.

Bake the chicken in the oven at 180 degrees for 60 minutes. Several times during this time, grease the chicken with the fat that will melt out of it. If there is not enough such fat, then brush the chicken with olive oil. It is very convenient to use a silicone brush for this. Check the readiness by making an incision: if the liquid is clear, then the chicken is ready. Take it out of the oven, put it on a plate, garlic on the sides, it's delicious!
Bon Appetit!
Also Like
Comments for "Chicken on a Garlic Pillow"