Chocolate Peanut Cake
by Editorial Staff
A very simple recipe for an incredibly delicious cake! The chocolate-peanut taste reminds everyone of the well-known Snickers bar. The cake is prepared very quickly, but it is better to give it time to soak.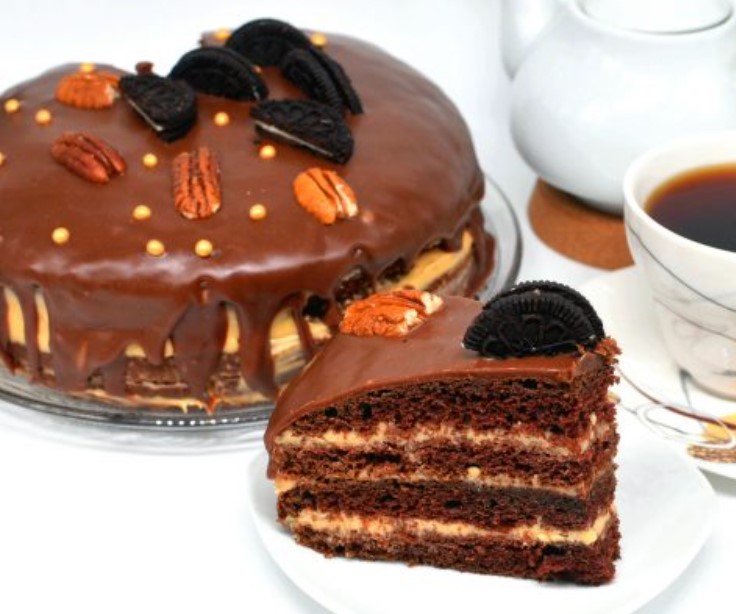 Cook:2 hour 45 mins
Servings: 8-10
Ingredients
Eggs – 3 Pieces (Cake)
Sugar – 3 Tbsp. spoons
Vegetable oil – 2 tbsp
Wheat flour / grade – 1 Glass (250 ml volume)
Cocoa powder – 3-4 Art. spoons
Salt – 1 Pinch
Soda – 1 Teaspoon (under the knife)
Balsamic vinegar – 1
Milk – 150 Milliliters
Butter – 50 grams (Cream)
Cream cheese – 200 grams (sweet soft)
Caramel – 3 Art. spoons
Peanut paste – 3 tbsp (unsweetened)
Milk Chocolate – 80 Grams (Glaze)
Butter – 30 Grams
Directions
Preheat oven to 180 degrees. In a deep bowl, combine the sifted cocoa flour, sugar, salt and baking soda.
Pour in butter and milk, beat in eggs. Turn on the mixer to medium speed and mix well. Add a spoonful of vinegar to the dough – it will taste better with balsamic – and work with a mixer again.
Pour the dough into two molds with a diameter of 18-20 cm. Bake for 15 minutes – until a dry splinter. Do not overdry the cakes!
Cool the cakes on a wire rack. They are very soft and not dry. No additional impregnation is required.
For the cream, beat the cream cheese with softened butter, peanut butter and milk caramel until smooth. Cut both cakes in half and brush each layer with cream. Do not grease the top cake.

For the frosting, melt the milk chocolate bar by breaking it into small pieces and adding the butter. It is convenient to melt chocolate in the microwave in short pulses of 10-15 seconds, stirring each time. Pour the icing on the cake, decorate and refrigerate for at least a couple of hours.
Have a nice tea!
Also Like
Comments for "Chocolate Peanut Cake"