Peanut Cake
by Editorial Staff
Delicious and easy to prepare cake. Add chopped peanuts to the dough, so the cakes have a pleasant nutty taste. Delicate cream with caramel flavor perfectly permeates the cakes.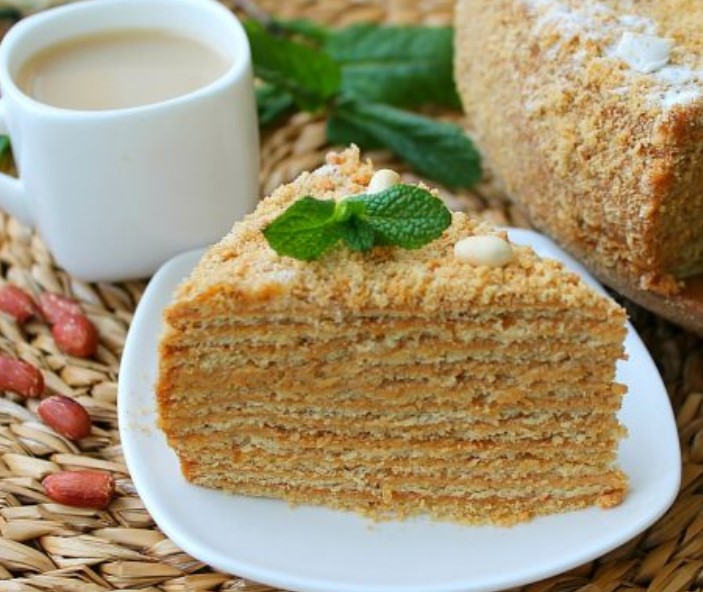 Cook: 8 hour
Servings: 16
Ingredients
Eggs – 3 Pieces
Wheat flour – 700 grams
Peanuts – 250 Grams
Butter – 300 Grams
Sugar – 200 Grams
Baking Dough – 1.5 Teaspoons
Cream 33% – 500-600 Milliliters
Boiled condensed milk – 750 Gram
Directions
Let's prepare the ingredients.

Pour sugar into a bowl and add eggs. Beat until foamy.
Put 3 tablespoons of boiled condensed milk and continue to beat.
The mass acquires a caramel color.
Add soft butter.
Dry the peanuts in a dry frying pan or in the oven. Then we clean and grind to a state of fine crumbs.
Pour the chopped peanuts into a bowl and mix everything.
Sift 500 grams of flour and baking powder through a sieve and add to a bowl. The remaining flour will be needed when kneading the dough and rolling out the cakes.
Knead the dough and divide into 12 parts. There will be 12 cakes.

Sprinkle each piece of dough with flour, put it on parchment and roll it out thinly. Cut to shape.
We transfer it together with the parchment on a baking sheet and send it to the oven, preheated to 180-190 degrees. The cake is baked for 5-6 minutes.
Preparing the cream. Cool the cream and whisk.
Add in portions all the condensed milk and continue whisking.
The cakes are ready. You will need trimming later. Grind them and sprinkle on the cake.
We collect the cake. We coat the cakes with cream and lay them one on top of the other. So all 12 cakes.
We coat the cake well with cream around the entire peri.
Grind the cuttings into crumbs. Sprinkle the cake over the top and sides.

The cake is ready. We leave at room temperature for an hour. Then, we put it in the cold. The cake will soak in 5-6 hours.
Before serving, you can decorate the cake to your liking. Nuts, mint leaves or berries, for example. The cake is ready, enjoy the taste.
Bon appetit!
Also Like
Comments for "Peanut Cake"