Classic Carrot Cake
by Editorial Staff
In this recipe, I will share my secrets on how to make a classic carrot cake. The cake turns out to be porous and moderately sweet. Be sure to try it in your kitchen! Delight!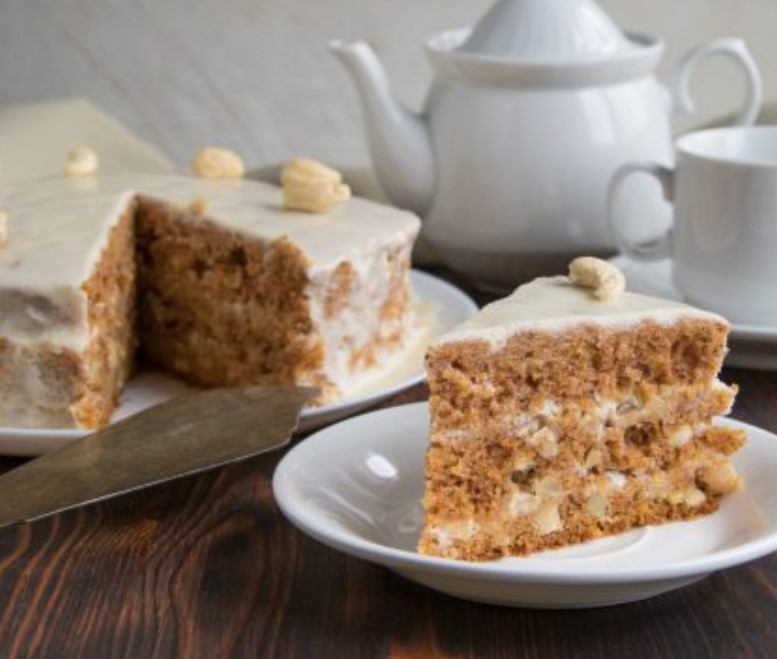 Cook: 4 hour
Servings: 8
Ingredients
Carrots – 450-500 Grams
Brown sugar – 200 grams (can be replaced with regular)
Flour – 320 Grams
Vegetable oil – 150 grams
Eggs – 3 Pieces
Cashews – 150 Grams (Can be substituted with pecans or walnuts)
Cinnamon – 1 Tbsp. the spoon
Soda – 1 Teaspoon
Baking powder – 1 teaspoon
Sour cream – 500 grams
Sugar – 100 Grams
Honey – 3 Art. spoons
Directions
Preheat the oven to 180 degrees and make the pie dough. To do this, we will clean, wash the carrots and rub on a fine grater.

Chop the nuts in medium pieces.
In a bowl, combine flour, cinnamon, baking soda and baking powder. It is necessary to mix everything very thoroughly, until smooth.
In a separate bowl, beat eggs with brown sugar for 3-4 minutes.
Pour butter into the egg-sugar mass and beat a little again.
Then gradually introduce the pre-mixed dry ingredients.
Add the nuts to the dough and mix well.
Then you need to introduce carrots into the dough. If it's very juicy, squeeze the excess juice into a bowl. Stir the dough thoroughly, it should be very thick. If moisture is still not enough, then you can add a couple of tablespoons of squeezed carrot juice.
Grease a baking dish with butter, sprinkle with flour and shake well. Excess flour can be shaken out. Put the dough into a mold and put it in the oven for 40-50 minutes, check the readiness of the dough with a toothpick. I bake a crust from the prepared amount of dough, then cut it into 2-3 pieces. It is permissible to bake the cakes separately, then the baking time of each is reduced to 20-30 minutes.
In a separate bowl, whisk up the sour cream, sugar and honey for the cream and refrigerate.

Our cake is ready, take it out of the mold and leave it to cool on the wire rack. After the cake has cooled down, cut it into 2-3 pieces and coat each with cream. The dough turns out to be very porous, therefore it is quickly soaked (2-3 hours is enough).
Bon appetit!
Also Like
Comments for "Classic Carrot Cake"